Venezuelan Bakers in Government Cross-Hairs as Bread Lines Grow
By and
Government orders bakers to produce cheaper, regulated loaves

Wheat imports falling on poor economic conditions, slow trade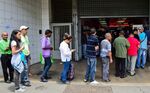 Venezuelan bakeries are the latest industry to find themselves in the cross-hairs of President Nicolas Maduro's administration as bread lines grow in the capital Caracas.
The government has ordered bakers to use scarce supplies of flour to produce price-controlled loaves and said that only 10 percent can be used to make the unregulated, pricey treats loved by Venezuelans including cachitos -- a sort of croissant that can be stuffed with ham or cheese. The government dispatched price regulators to hundreds of bakeries in Caracas this week to make sure the order was being followed.
"There will be a political team for each bakery so that we have vigilance and permanent control over the 709 bakeries in Caracas," Vice President Tareck El Aissami said on Sunday. "We've identified part of the conspiracies and sabotage" that had prevented bread reaching the people.
Venezuela price regulator Sundee said in a statement on Wednesday that several bakery managers had been brought before the public prosecutor for using flour supplies to only produce sweets, cachitos and other higher-end items. Two other bakers were arrested for making brownies with flour that had past its expiration date, Sundee said.
Bread Lines
Bread lines have been a common sight in the capital Caracas for the past several months as people wait for the chance to purchase a regulated loaf that can cost as little as 650 bolivars (about 92 U.S. cents at the weakest legal exchange rate and far less at the illegal black market rate). With the world's fastest inflation well into triple-digit territory, bakeries typically survived by selling pricier, unregulated items to middle- and upper-class clients who can afford the 2,000 bolivars a chachito can cost now.
About 80 percent of bakeries have seen their stocks of flour reduced to zero, with the remaining 20 percent only receiving about 10 percent of their regular monthly supply, bakery union Fevipan said Tuesday in a post on its Twitter account.
So far this year, Venezuela's wheat imports are down 200,000 tons to 1.3 million tons as poor economic conditions crimp demand, the Foreign Agricultural Service of the U.S. Department of Agriculture said in its March report.
Since Maduro took office in 2013, he's presided over an economic collapse that is almost unprecedented outside of wartime, with shortages of everything from food to medicine increasingly common. The government has slashed imports as it tries to stay current on its foreign debt obligations with international reserves hovering near a 15-year low of $10.4 billion.