business
U.S. Says No Charges to Be Filed Against New York Mayor De Blasio
By and
Acting U.S. Attorney issues rare statement on end of probe

De Blasio tells WNYC radio that 'we acted appropriately'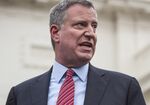 New York Mayor Bill de Blasio and his aides won't face corruption charges based on pay-for-play allegations, according to acting U.S. Attorney Joon Kim.
De Blasio and his aides were the subject of a long-running probe into whether they granted official favors in exchange for campaign donations. But Kim said the "totality of the circumstances," including a lack of personal profit derived from the scheme, weighed against filing charges.
"From the beginning -- it's basically a year -- I've been saying we acted appropriately," de Blasio said in an interview on WNYC radio. "We held ourselves to a very high standard and we will continue to." The mayor said his administration "cooperated from the very beginning. We said we wanted to help in any way we can and we did."
Federal prosecutors in Manhattan took the rare step Thursday of announcing they don't plan to file charges. They said the statement was issued to avoid influencing the next mayoral election.
The statement said de Blasio and others acting on his behalf solicited donations for his 2013 election campaign and two other initiatives from individuals who sought official actions from the city, after which the mayor made inquiries on their behalf. But state statement added "We take into account, among other things, the high burden of proof ... and the particular difficulty in proving criminal intent in corruption schemes," the statement added.
"In all likelihood this is the election; de Blasio now has a clear path to a second term," said George Arzt, a Democratic political consultant who served as press secretary to former Mayor Edward Koch. "It's doubtful that any of his top-tier rivals will run. Everyone was looking for something to happen in the investigations and they're not going to give up their seats in a roll of the dice."
(
Updates with de Blasio comment in third paragraph.
)
Before it's here, it's on the Bloomberg Terminal.
LEARN MORE