U.S. Bond Bulls May Find Respite as Japanese Spring Buyers Loom
By
Hedging the cost of foreign purchases is now cheaper for Japan

A higher terminal rate requires fiscal expectations to be met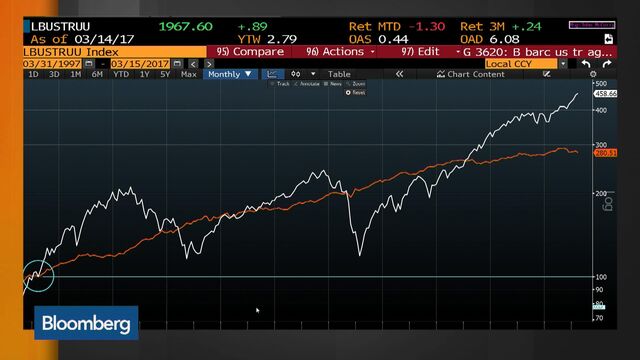 This month's increase in benchmark U.S. yields may stall for now, given chart and historical buying patterns of Japanese investors as well as a terminal rate that lacks escape velocity.
The yield on 10-year Treasuries has risen 14 basis points so far this month in a slow grind higher, even though it has failed to make a new high against the December peak of 2.64 percent. Japanese investors have traditionally bought foreign debt at the start of the nation's new financial year, and the yield attractiveness of U.S. debt has improved after taking into account the cost of currency hedging.
The one-month Treasury rate, two years forward -- a proxy for the Fed's terminal rate -- has already discounted about six increases of 25 basis points each over the next two years and remains below the December highs, with inflation well contained for now. A higher terminal rate requires fiscal-policy expectations to play out to script or the term premiums to move higher.

Japanese life insurers typically buy domestic bonds in March and foreign bonds in the first half of the fiscal year that starts in April. With yen cross-currency basis having tightened this year, led by the front end, the cost of hedging foreign assets has cheapened. The three-month basis swap is now at minus 41 basis points, which is the average level it has been in the past two years.

* NOTE: Tanvir Sandhu is an interest-rate and derivatives strategist who writes for Bloomberg. The observations he makes are his own and are not intended as investment advice.