Trump Wiretap Claims Rejected by Senate Intelligence Chiefs
By
'We see no indications' surveillance was aimed at Trump Tower

Spokesman Spicer says Trump stands by his assertion on spying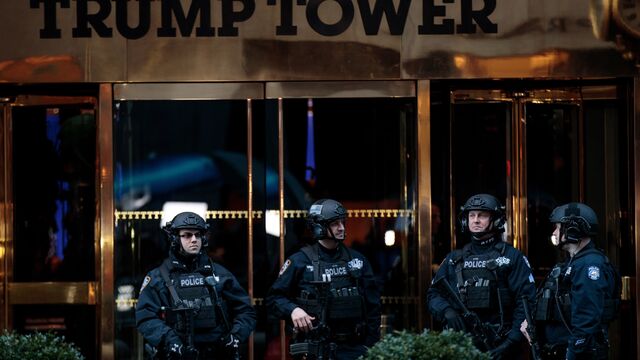 The top Republican and Democrat on the Senate Intelligence Committee said there's no evidence that any surveillance was conducted at Trump Tower in New York City, contradicting President Donald Trump's claim.
"Based on the information available to us, we see no indications that Trump Tower was the subject of surveillance by any element of the United States government either before or after Election Day 2016," the panel's chairman, Richard Burr of North Carolina, and vice chairman, Mark Warner of Virginia, said in a joint statement Thursday.
Trump initially said on Twitter that his phones at Trump Tower were "wire tapped" by former President Barack Obama during the campaign. Trump walked that claim back on Wednesday, telling Fox News that "'Wiretap' covers a lot of different things." He also suggested that evidence supporting his claim may be forthcoming.
Asked Thursday if Trump stands by his claim, White House press secretary Sean Spicer told reporters that "he stands by it" without further explanation.
The statement by the two senators follows bipartisan questioning of Trump's initial posting. House Intelligence Committee Chairman Devin Nunes of California said Wednesday that if you take Trump's tweet on wiretapping literally, "clearly the president was wrong." Arizona Republican Senator John McCain said on CNN last weekend that "the president has one of two choices: either retract or to provide the information that the American people deserve."
Comey to Testify
The president's allegations are likely to be the center of attention again on March 20, when Federal Bureau of Investigation Director James Comey and National Security Agency Director Mike Rogers appear before Nunes's committee.
Spicer said the Senate and House intelligence panels don't have all the information yet.
"The president said last night that there will be additional information coming forward," he said without elaborating. "The idea is to look into this, have the House and Senate intelligence committees look into this and report back."
Spicer released a statement March 5 that the president and the White House wouldn't comment on the matter until those committees investigate, but the administration has continued to try to explain Trump's original tweets. Spicer said Thursday that Trump's claim is that broad surveillance was conducted against his campaign -- even though that's not what Trump tweeted. He also cited as support a claim by a Fox News host that British intelligence may have been used to help gather information on Trump, but said the issue hasn't been raised with the U.K. government.
Trump's spokesman also accused reporters of selectively highlighting comments from lawmakers that there's no evidence of surveillance against Trump Tower while ignoring their comments that there's no evidence of collusion between Trump associates and the Russian government.
Spicer spent several minutes during his news briefing on Thursday reading from media accounts about possible surveillance of Trump, including a Fox News report that Obama had sought transcripts of intercepted conversations involving the Republican presidential candidate from the British Government Communications Headquarters, a U.K. intelligence agency.
A spokesman for the agency called the allegations, by Fox analyst Andrew Napolitano, "nonsense."
"They are utterly ridiculous and should be ignored," the spokesman said in an email.
When asked if Trump will be vindicated, Spicer said "I believe he will."
— With assistance by Justin Sink
Before it's here, it's on the Bloomberg Terminal.
LEARN MORE