GOP Dissent Mounts on Health Care Even as Bill Advances in House
By and
Bill approved by committee but 3 Republicans voted against

President is 'getting deeply involved:' House Speaker Ryan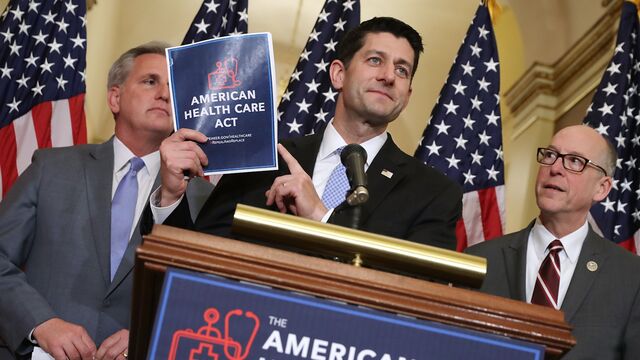 Republican dissension is mounting over a proposal to repeal and replace the Affordable Care Act, even as the bill passed another hurdle in Congress and President Donald Trump said he's open to negotiation on the plan.
While the GOP bill, called the American Health Care Act, was approved by a third committee in the House of Representatives on Thursday, the 19-17 vote was the first time Republicans crossed party lines to join Democrats against the bill. The opposition came from the party's conservative wing, which wants to wind down Obamacare more quickly.
Both moderate and conservative Republicans have voiced concerns about the health-care bill, particularly after an analysis from the Congressional Budget Office showed it could lead to 24 million more Americans going uninsured in 10 years. The challenge for GOP leaders is to reconcile moderates seeking to help more people keep their health insurance with conservatives calling for a quick end to the law's expansion of Medicaid.
"I'm, in a little way, I'm an arbitrator," Trump said on Wednesday in an interview with Fox News's Tucker Carlson. "We have the conservatives, we have the more liberal side of the Republican Party, we have the left, we have the right within the Republicans themselves, we got a lot of fighting going on."
Trump said he's open to "negotiation" in response to a question from Carlson on whether the bill is the best Republicans could do after seven years of campaigning against Obamacare. Carlson also pressed the president on tax cuts in the proposal that largely go to wealthy families, citing a Bloomberg News analysis that showed much of the benefit flowing to areas that voted for Democrat Hillary Clinton. "Maybe this isn't consistent with the message of the last election," Carlson said.
"No. A lot of things aren't consistent," Trump responded. "But these are going to be negotiated. We've got to go to the Senate. We're going to see what happens in the Senate."
Republican Concerns
At the Budget Committee on Thursday, three Republicans voted against the GOP bill: Dave Brat of Virginia, Gary Palmer of Alabama and Mark Sanford of South Carolina. But the bill still passed and now moves forward to the fourth committee, the Rules Committee, before getting a vote in the full House body, where passage remains uncertain.
House Speaker Paul Ryan has continued to express confidence that the bill to repeal and replace Obamacare can get through the House, though he's said he's open to changes.
"The president is getting deeply involved, he is helping bridge gaps in our conference," Ryan said at a Thursday press conference. Ryan said that while the main pieces of the bill will stay the same, the GOP is making "improvements and refinements based on the feedback we're getting from our members."
Trump touted the health bill in a political rally in Nashville, Tennessee, Wednesday night, saying it "will get rid of Obamacare and make health care better for you and for your family."
"The House has put forward a plan to repeal and replace Obamacare, based on the principles I outlined in my joint address," Trump told the crowd. "But let me tell you. We're going to arbitrate. We're going to all get together. We're going to get something done."
Three-Phase Plan
On Fox News, Trump reiterated his administration's three-phase plan to overhaul the health-care system. First is the bill that's currently up for debate, then regulatory changes, followed by another bill that Trump said he thinks could win Democratic support. That bill will push measures to bring down the cost of prescription drugs, Trump said.
The current system relies on middlemen known as pharmacy-benefit managers to negotiate drug prices on behalf of insurers and employers, as well as in the Medicare Part D drug-benefit program.
"We have a middleman system, and we have a lot of bad systems," Trump said. "We don't have a good bidding system, and we're going to get drug prices so far lower than they are now your head will spin," the president said.
"We are going to come up with something," Trump later told reporters on board Air Force One. "We always do."
— With assistance by Sahil Kapur, Billy House, Shannon Pettypiece, Margaret Talev, and Anna Edgerton
Before it's here, it's on the Bloomberg Terminal.
LEARN MORE