politics
Trump Seeks to Cut State Department, UN for 'America First'
By and
Budget calls for 29% cut from State, USAID from fiscal 2016

Proposal would scrap climate change fund, refugee assistance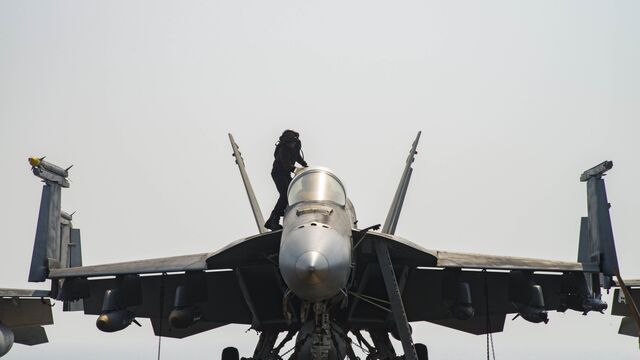 President Donald Trump wants to slash the State Department's budget and international programs, with deep cuts to causes including combating climate change and supporting United Nations peacekeeping.
The budget outline released Thursday for the year that begins Oct. 1 seeks $27.1 billion for international programs, including the State Department and the U.S. Agency for International Development. It would be a 28.5 percent reduction from fiscal 2016, the last year Congress enacted full-year spending legislation.
The White House proposed cutting funding for multilateral development lenders such as the World Bank by $650 million over three years from the prior administration's commitments. The U.S. committed $2.3 billion to development banks in fiscal 2016, including $1.2 billion for the World Bank fund for the world's poorest nations. The World Bank lends to poor countries and emerging markets, with the goal of eradicating extreme poverty by 2030.
"These steps to reduce foreign assistance free up funding for critical priorities here at home and put America First," the Trump administration said, invoking one of the president's favorite themes in its summary of proposed spending for fiscal 2018.

Secretary of State Rex Tillerson said Thursday in Tokyo he "willingly" took on Trump's challenge to cut funding. He said recent spending increases at the department stemmed from U.S. involvement in overseas conflicts and providing disaster assistance.
Spending is expected to drop as the U.S. extricates itself from conflicts, becomes more effective in spending its aid dollars and gets more help from other nations in disaster assistance, Tillerson said. 
'Not Sustainable' 
"Clearly the level of spending that the State Department has been undertaking, particularly in the past year, is simply not sustainable," Tillerson said at a briefing with Japanese counterpart Fumio Kishida. The department will find "a way forward that allows us to be much more effective and much more efficient to be able to do a lot with fewer dollars."
The administration focused many of the cuts on "soft power" initiatives that found favor under former President Barack Obama. It called for reducing Educational and Cultural Exchange Programs, other than the well-known Fulbright scholarships, and eliminating funding to organizations such as the East-West Center in Hawaii.
Gates Foundation
The proposal drew rebukes from some outside groups, including the Bill & Melinda Gates Foundation.
Rob Nabors, the foundation's director of U.S. policy, advocacy and communications, said the government's success in combating global health pandemics, extreme poverty and diseases such as polio could be reversed under Trump's proposed budget. Cutting funding for development ultimately undermines U.S. security by creating a more unstable world that's ripe for conflicts, he said in an interview.
"Either invest this money now or we will be sending young men and women abroad to fight wars in the name of U.S. security," said Nabors, who served as the White House deputy chief of staff for policy during the Obama administration. "That puts lives at risk and it will ultimately be infinitely more expensive than making the short-term, preventative investments in developments right now."
Bill Gates, the billionaire co-founder of Microsoft Corp., will meet with Trump at the White House on March 20 and is likely to bring up some of these concerns, Nabors said.
Some prominent Republicans also have said they'd resist deep cuts, which would have to be approved by Congress.
"If it's anywhere in the ballpark of what I've seen about the State Department, that's definitely dead on arrival," Senator Lindsey Graham, a Republican from South Carolina, said when word of the cuts first surfaced in February. "That guts soft power and puts our diplomats at risk."
In February, more than 120 retired generals and admirals signed a letter urging Congress to block the State Department and USAID reductions, saying the agencies help save the military from fighting wars.
Tillerson's Support
"The president ran saying he'd spend less money overseas and more money at home," Mick Mulvaney, Trump's budget director, said a White House budget briefing. "So when you go to implement that policy, you go to things like foreign aid, and those get reduced." He said it wasn't "a commentary on the president's policies toward the State Department."
The 28.5 percent cut proposed by Trump was eased from reductions of as much as 37 percent that the White House considered in February, according to people familiar with the deliberations at the time. Tillerson may have succeeded in reversing some of the proposed cuts, though he backed the president's initiative to cut State Department spending and to eliminate programs such as those that promote democracy globally.
Read how relief over Tillerson inside the State Department has faded
Trump "seeks to reduce or end direct funding for international organizations whose missions do not substantially advance U.S. foreign policy interests, are duplicative, or are not well-managed," according to the budget summary.
While funding to the United Nations and affiliated agencies would be reduced, the administration didn't provide details.
It said the U.S. would contribute 25 percent of costs for "blue helmet" peacekeeping forces sent to world trouble spots, which would be down from 28.6 percent in the year ending this June, according to UN data. The UN has 16 peacekeeping operations, from Cyprus to Western Sahara, although the program has been rocked by evidence of abuses including sexual assaults on people the soldiers are supposed to protect.
The administration also would eliminate payments to the Global Climate Change Initiative and end payments to UN climate change programs. It would scrap the Emergency Refugee and Migration Assistance program, calling it "duplicative" of other efforts.
The UN is grateful for the support the U.S. has provided over the years as the organization's largest financial contributor, "however, abrupt funding cuts can force the adoption of ad hoc measures that will undermine the impact of longer-term reform efforts," spokesman Stephane Dujarric said in a statement Thursday.
'Underlying Drivers'
While UN Secretary-General Antonio Guterres agrees with Trump's focus on combating terrorism, "there is also a need to address the underlying drivers of terrorism through continuing investments in conflict prevention, conflict resolution, countering violent extremism, peacekeeping, peacebuilding, sustainable and inclusive development, the enhancement and respect of human rights, and timely responses to humanitarian crises," Dujarric added.
Other proposed steps in Trump's budget include changing some foreign military assistance from grants to loans. But the administration emphasized that it would provide $3.1 billion for security assistance to Israel, the top recipient of such aid.
"The world is a lot more complicated than can be seen from a Predator drone or an F-35," Sarah Margon, Washington director of Human Rights Watch, said in a statement. "Yet a budget that slashes State Department and USAID funding, while further expanding the Pentagon, shows President Trump is intent on undermining U.S. government agencies that address pressing human rights issues, most of which are not dealt with by military force."
— With assistance by Andrew Mayeda, Kambiz Foroohar, Justin Sink, and Toluse Olorunnipa
(
Updates with Gates Foundation comments in 10th paragraph and Bill Gates meeting in 12th.
)
Before it's here, it's on the Bloomberg Terminal.
LEARN MORE