Trump Adds Goldman Alum Powell to National Security Council
By
Dina Powell will add a title to her White House position

Deputy national security adviser McFarland to remain in job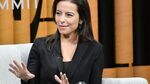 President Donald Trump will name Dina Powell, currently a senior economic adviser, as his deputy national security adviser for strategy, the White House said Wednesday.
Powell, who led philanthropic investing at Goldman Sachs Group Inc. before joining the administration, works closely with the president's daughter, Ivanka Trump, and her husband and senior White House adviser Jared Kushner on economic matters. Powell will retain her prior White House position as senior counselor for economic initiatives.
Her appointment to the National Security Council comes after Michael Flynn, a close ally of the president, was forced to resign as the agency's director after misleading senior administration officials, including Vice President Mike Pence, about conversations with a Russian envoy regarding U.S. sanctions against the country.
Flynn's replacement, H.R. McMaster, was promised "full authority" to hire "whatever staff he sees fit," White House spokeswoman Sarah Sanders said last month.
K.T. McFarland, who has been serving as a deputy national security adviser, will also retain her role and work alongside Powell, national security council spokesman Michael Anton said. The status of McFarland, a former Fox News commentator, has been in question since Flynn's departure.
Powell's appointment to the National Security Council was first reported by Politico, which said she would help lead an inter-agency policy process working with Secretary of State Rex Tillerson, CIA Director Mike Pompeo and Defense Secretary James Mattis.
Before it's here, it's on the Bloomberg Terminal.
LEARN MORE