Tillerson Tells North Korea It Has Nothing to Fear From U.S.
By and
U.S. secretary of state says 20 years of diplomacy has failed

Calls on North Korea to abandon nuclear and missile programs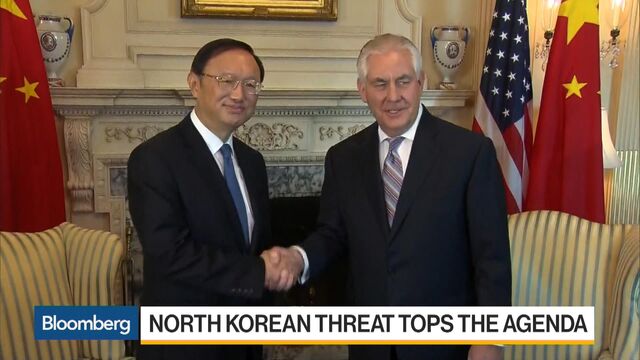 Secretary of State Rex Tillerson said that North Korea has nothing to fear from the U.S. or its allies in the region while calling for a new approach to efforts to dismantle the nation's nuclear program.
Tillerson, on his first trip to Asia since being confirmed six weeks ago, said that 20 years of diplomatic efforts had failed to stop North Korea from pursuing nuclear weapons. At a joint briefing in Tokyo with Foreign Minister Fumio Kishida, he called for a strong alliance between the U.S., Japan and South Korea to counter Kim Jong Un's regime.
"North Korea and its people need not fear the United States, or their neighbors in the region who seek only to live in peace with North Korea," Tillerson told reporters on Thursday. "With this in mind, the United States calls on North Korea to abandon its nuclear and ballistic missile programs and refrain from any further provocations."
Tillerson's comments appeared to address concerns from China, which has long held that North Korea pursued nuclear weapons out of fear that the U.S. wanted to topple the regime established by Kim Jong Un's grandfather after the Second World War. President Donald Trump's administration is currently reviewing the U.S.'s policy toward North Korea, with all options on the table.
Tillerson, who plans to stop in South Korea on Friday before heading to Beijing, said he'd speak with Chinese leaders on "further actions" their country can take, adding that Beijing had "a very important role to play." He declined to answer a question seeking specifics about the new U.S. policy for North Korea or what he would ask China to do.
China is North Korea's major ally, providing most of its food and fuel. Experts say that businesses there continue to help Kim's regime evade United Nations sanctions even after China halted coal imports from North Korea earlier this year.
China earlier this month proposed a "suspension-for-suspension" in which Kim's regime halts its nuclear and missile programs in exchange for the U.S. and South Korea canceling major military exercises. The U.S. rejected the proposal, reflecting longstanding policy to refuse to enter talks unless Kim's regime agreed to drop its nuclear ambitions.
Rare Briefing
In a rare press briefing on Thursday, Pak Myong Ho, an official at North Korea's embassy in Beijing, blamed the U.S. for turning down China's proposal to restart talks, adding that his country made a similar suggestion in 2001. He defended North Korea's pursuit of nuclear weapons as necessary to protect itself against the threat posed by U.S.-South Korea military exercises.
"The reality proves that we were right," Pak said. "We need the capacity to make self-defensive, pre-emptive nuclear attacks, unless the U.S. and its followers completely discard their nuclear threat."
Given North Korea's record of evasion and deceit, any reasonable suspension of activities would require an extraordinarily invasive verification regime, according to Ely Ratner, a senior fellow in China Studies at the Council on Foreign Relations in Washington and a former deputy national security adviser to Vice President Joe Biden. The U.S.-South Korean military drills are necessary to ensure readiness to fight, Ratner wrote this month.
Still, North Korea's ability to continue developing more powerful nuclear weapons and missiles shows that the U.S. needs a new approach, said Ashley Townshend, research fellow at the U.S. studies center at the University of Sydney.
"There will be no solution to the Northern Korean crisis that doesn't involve a diplomatic compromise with Beijing," he said. "We need to get rid of the pre-conditions" to have a diplomatic solution, he said.
— With assistance by Isabel Reynolds, and Ting Shi
Before it's here, it's on the Bloomberg Terminal.
LEARN MORE