Prince Charles Turns to Chocolate to Tackle Deforestation
By
Top cocoa, chocolate firms commit to ending deforestation

Initiative to start in top producers Ivory Coast and Ghana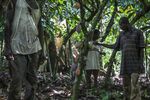 Prince Charles's new environmental push has a sweeter taste.
The heir to the British throne, known for disclosing his carbon footprint, is turning to chocolate to help protect the world's forests. In a meeting Thursday organized by his International Sustainability Unit, 12 of the top cocoa and chocolate companies including Mars Inc. and Cargill Inc. committed to ending deforestation that has plagued West Africa.
The initiative also involves governments of top growers Ivory Coast and Ghana, where large amounts of cocoa are grown on environmentally unsuitable land, Richard Scobey, president of the World Cocoa Foundation, said in an interview in London. The Ivorian Forestry Ministry estimates about 80 percent of the country's forests have disappeared since the 1970s.
"Over the past 50 years, about half of the world's tropical forests have been lost largely due to agricultural encroachments," Scobey said. "There have been four big commodities that are the drivers of deforestation: soy, palm oil, lumber and cattle. However, in the case of West Africa, there's no question that cocoa has been a significant driver."
Commodities including cocoa, coffee and palm oil have been the backbone of West African economies for decades. As cocoa prices outperformed other crops in several years through 2015, that fueled more production of beans that in many cases came at the expense of forests.
Ivory Coast
Ivorian cocoa output will reach a record 1.9 million metric tons this season, the International Cocoa Organization says. The nation, which has the highest deforestation rate in Africa, has pledged to evict farmers from protected parks and areas and double the remaining forest cover by 2020.
"The private sector has a critically important part to play in saving our remaining forests, particularly through tackling the deforestation that has too often, alas, been associated with global commodity supply chains," Prince Charles said in a speech in London Thursday.
To produce more without expanding area, chocolate makers and cocoa traders will focus on improving yields, which have been stable for decades, said Barry Parkin, head of sustainability at Mars. Most other crops have seen a jump in yields. Governments will prioritize land policy and enforcing rules, Scobey said.
"One of the real opportunities that we have with cocoa, that perhaps you don't have with palm, is that the potential yield on cocoa is significant," Parkin said in the same interview. "The science that's already available has been shown to at least double yields."
Cocoa Market
The initiative, which will have concrete actions drafted before a final announcement in November, comes as higher output and slowing demand pushed prices down by 35 percent from a six-year high set in July. If demand doesn't match better yields, that may threaten incomes for millions of already poor farmers. World chocolate sales fell 2.3 percent in the three months through November, top cocoa processor Barry Callebaut AG said in January, citing analytics firm Nielsen.
Read more: Cocoa price may reach decade-low as surplus seen repeated.
"There are still billions of consumers that will come to cocoa in the next decades in both Asia and Africa," Parkin said. "The trick here is to ensure that supply grows in line with demand and, going back to the deforestation issue, on land that should be used for cocoa."
Maintaining forests is key for cocoa because degradation is contributing to global warming, something that's expected to make West Africa drier, Parkin said. The region accounts for about two-thirds of global supply.
Government Attendees
Government officials from consuming nations including the U.K., Germany and the Netherlands were also present at the event. Dutch ports are the gateway for cocoa coming into Europe and the country has pledged to use only sustainable cocoa by 2025.
"Over 1 billion people around the world depend on forests for jobs and vital resources, but illegal deforestation for commercial gain is destroying livelihoods and natural habitats," said James Wharton, the U.K.'s international development minister. "We can see this all too clearly in the cocoa industry, where the extreme poverty of farmers is a pervasive problem, child labor still exists, and we are seeing more and more forest disappearing."
Companies including Blommer Chocolate Co., The Hershey Co. and Barry Callebaut also committed to the initiative. While the focus will be on Ivory Coast and Ghana, it could eventually include other cocoa regions in sub-Saharan Africa, Southeast Asia and Latin America.
"The Prince of Wales coming to the table did attract and engage our members," he said. "Otherwise, I fear we would have taken a lot more time to reach a consensus position."
Before it's here, it's on the Bloomberg Terminal.
LEARN MORE