Pound Climbs, Gilts Fall as Forbes Vote Catches Market Off-Guard
By
Investors now pricing in a higher chance of a rate increase

Markets have been caught a little offside by split vote: CIBC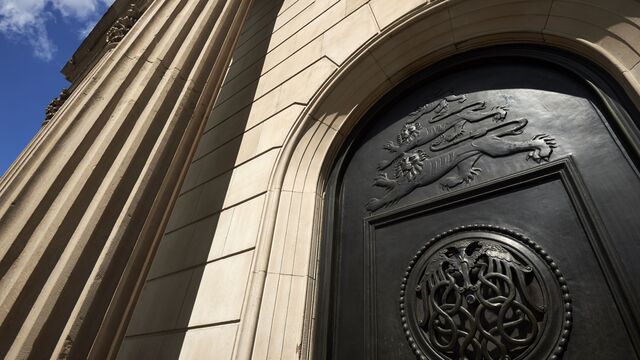 The pound appreciated against all of its major peers and bonds fell after Bank of England policy maker Kristin Forbes voted for an interest-rate increase, a dissent that caught some in the market by surprise.
Sterling climbed to a two-week high versus the dollar and gilts sold off as the central bank kept the benchmark rate at a record-low 0.25 percent in an 8-1 vote. Investors are now pricing an 80 percent chance policy makers will raise rates by September 2018, compared with about 60 percent yesterday, money-market pricing shows.

Forbes supported a rate increase to 0.5 percent, and some of those in the majority said it wouldn't take much more strength in inflation or growth for them to also shift their view. The BOE is trying to balance predicting the extent to which Britain's vote to leave the European Union could hurt the economy and for how much longer it can look through faster inflation.
"The markets were remarkably relaxed going into the decision, and in a sense some may have been caught a little offside by the fact that it isn't uniformity, which has been the general view of late," said Jeremy Stretch, head of Group-of-10 foreign-exchange strategy at Canadian Imperial Bank of Commerce. "There was always the risk on Forbes -- I would also note to fact that she has about two more MPC meetings before she departs."
"It is going to be the case for me that the sterling rally is an opportunity to sell into the high levels. I think at this 0.87 area in EUR/GBP and north of the 1.2300 where we are now, would be an opportunity to sell," said Stretch
GBP/USD climbs 0.4% to 1.2345, after reaching 1.2372, its highest since Mar. 1
EUR/GBP falls 0.5% to 0.8690, the pair's first decline in three days
10-year yield up 7 bps to 1.28%, having earlier touched 1.29%, the highest level in a month. Two-year gilt yield up 6 bps to 0.10%
UBS Group
"There's clearly been quite a reaction in gilts to Forbes' vote and the minutes more generally which have a hawkish skew," said John Wraith, head of U.K. rates strategy
"One person is actually voting for a move; it clearly changes the debate a little bit. You'd have to attach more of a probability of a hike than you did before the minutes"
Still, Wraith said for now he's sticking to his forecast for 10-year gilt yields of 1.20% by the end-1Q and 1.40% by year-end
Gilts have been outperforming their peers "dramatically for some time, so in a wider context, it's a correction to that bigger move, rather than anything more serious than that," Wraith said
Toronto Dominion Bank
"It continues to show the uneasiness the MPC has with the current macro outlook," said Richard Kelly, head of global strategy. "If it weren't for the Brexit shock working its way through the economy, the BOE would be hiking"
The Brexit "shock has hit the currency and is driving inflation higher, but the big debate is how much impact is it having on real activity
TD Bank sees 10-year gilt yield at 1.30% by end 1Q and 1.35% by mid-year
ADM Investor Services
"Gilt markets are surprised," said strategist Marc Ostwald. But their underperformance to German bunds and U.S. Treasuries "given that all the yields are backed up, is not exactly enormous"
Yields on 10-year gilts will likely remain rangebound between 1.20%-1.40% and while "gilt yields could go slightly higher, they won't go significantly higher. So by 1.40% you'll probably find some buyers"
Before it's here, it's on the Bloomberg Terminal.
LEARN MORE