Populist Blow Sends Buy Signal to Embattled European Markets
Natasha Doff and Cecile Gutscher
Dutch stocks surge after defeat of Freedom Party's Wilders

Italian bonds outperform German as euro threat seen contained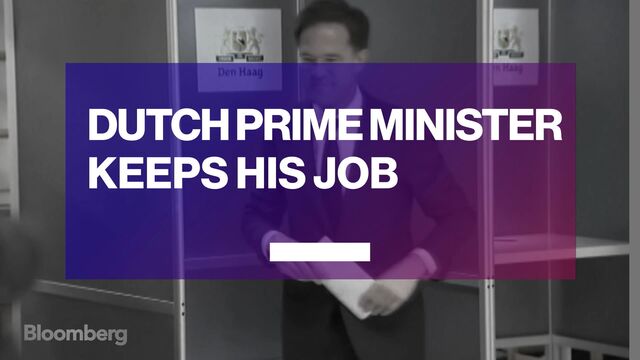 A defeat of European populism in the Netherlands is radiating through the region's markets.
Liberal Mark Rutte easily beat off anti-Islam Freedom Party candidate Geert Wilders, dealing a blow to the spread of populism that has destabilized Europe ever since Britain voted to leave the European Union in June. The Dutch vote drew unusual global scrutiny as it came before next month's presidential election in France, where anti-euro candidate Marine Le Pen has vowed to take the nation out of the single currency.
Below are four charts showing the relief rally in action and one showing why investors should still maintain some caution:

The euro climbed to a one-month high versus the dollar after exit polls released on Wednesday evening showed that Rutte was in the lead. The currency gave back part of its gain on Thursday as the dollar strengthened following the Fed's rate decision.
The Dutch AEX Index rallied as much as 0.9 percent, poised for its highest close since December 2007. ArcelorMittal, the world's largest steelmaker, and ING Groep NV, the largest Dutch lender, led gains. The Euro Stoxx 50 index headed for its highest close since 2015, buoyed by the Dutch election result and the Federal Reserve, which raised interest rates on Wednesday.

The VStoxx Index of euro-area volatility plunged 23 percent, heading for its biggest slump on record, though technical factors are said to have contributed to the drop too. The probability of a Le Pen win next month, implied from betting odds, fell by around 1 percentage point to 29.3 percent following the Dutch result.

Italian bonds outperformed their German counterparts on Thursday, even as initial gains in European securities faded. Italian debt is among the most liquid in the region, and has been increasingly correlated with shifting perceptions of a Le Pen win.

Still, as investors celebrated the Dutch result the spread between French and German bonds widened, signaling lingering concern that Le Pen could prevail. Christoph Rieger, head of fixed-rate strategy at Commerzbank AG, recommended using today's euphoria to buy dips in the spread.