politics
Opinion Polls Get It Almost Right in Dutch Vote
By
Surveys predicted win for Premier Rutte's Liberals, not extent

Final polling pretty accurate on strength of populist Wilders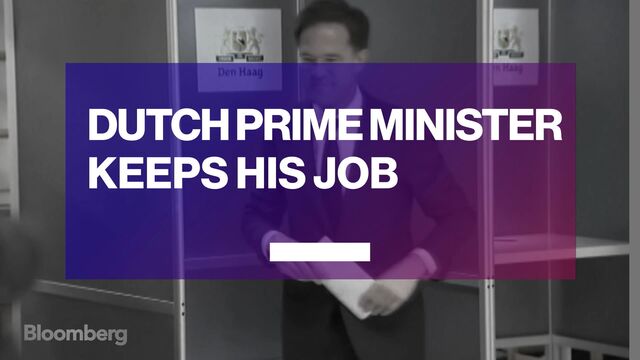 After a string of embarrassing failures from Brexit to Donald Trump, opinion pollsters have managed to get an election right -- almost.
The latest polls ahead of Wednesday's Dutch parliamentary vote were right about both the victory of Prime Minister Mark Rutte's Liberals, known as the VVD in Dutch, and the fading fortunes of the anti-Islam Freedom Party of Geert Wilders as campaigning drew to a close. But they all failed to capture the extent of the late surge to Rutte that saw him win 33 seats in the 150-member lower house, according to virtually complete results.
"The polls all underestimated the VVD, though some were close and there were no other big misses,'' Matt Singh of the Number Cruncher Politics blog in the U.K., said in an email.
One of the very last polls published Tuesday, by Ipsos, gave the Liberals 29 seats, but the final version of the Peilingwijzer poll aggregator had Rutte's party on about 26 seats, seven short of what it actually achieved. Ipsos also had the Freedom Party, known as the PVV in Dutch, on 20, which was close to the aggregate.
"As is often the case the popularity of the more radical, Party for Freedom (PVV) slipped as the election approached," Michael Metcalfe, global head of macro strategy at State Street Global Markets, said in an emailed note. "This highlights polls do not always or systematically underestimate the populist vote as arguably they did in the case of Brexit or Trump."
The British general election of 2015 and vote to leave the European Union last year, as well as Trump's White House win prompted red faces among survey companies on both sides of the Atlantic.
In Austria's presidential runoff in December, polls showed a statistically tied race before Alexander Van der Bellen of the Green Party comfortably beat Norbert Hofer of that country's far-right Freedom Party.
Before it's here, it's on the Bloomberg Terminal.
LEARN MORE