Sadomonetarism Haunts Scandinavia as Housing Risks Stunt Policy
By
Norges Bank pushes rate increases, easing bias into 2019

Handelsbanken questions how long bank can stick to strategy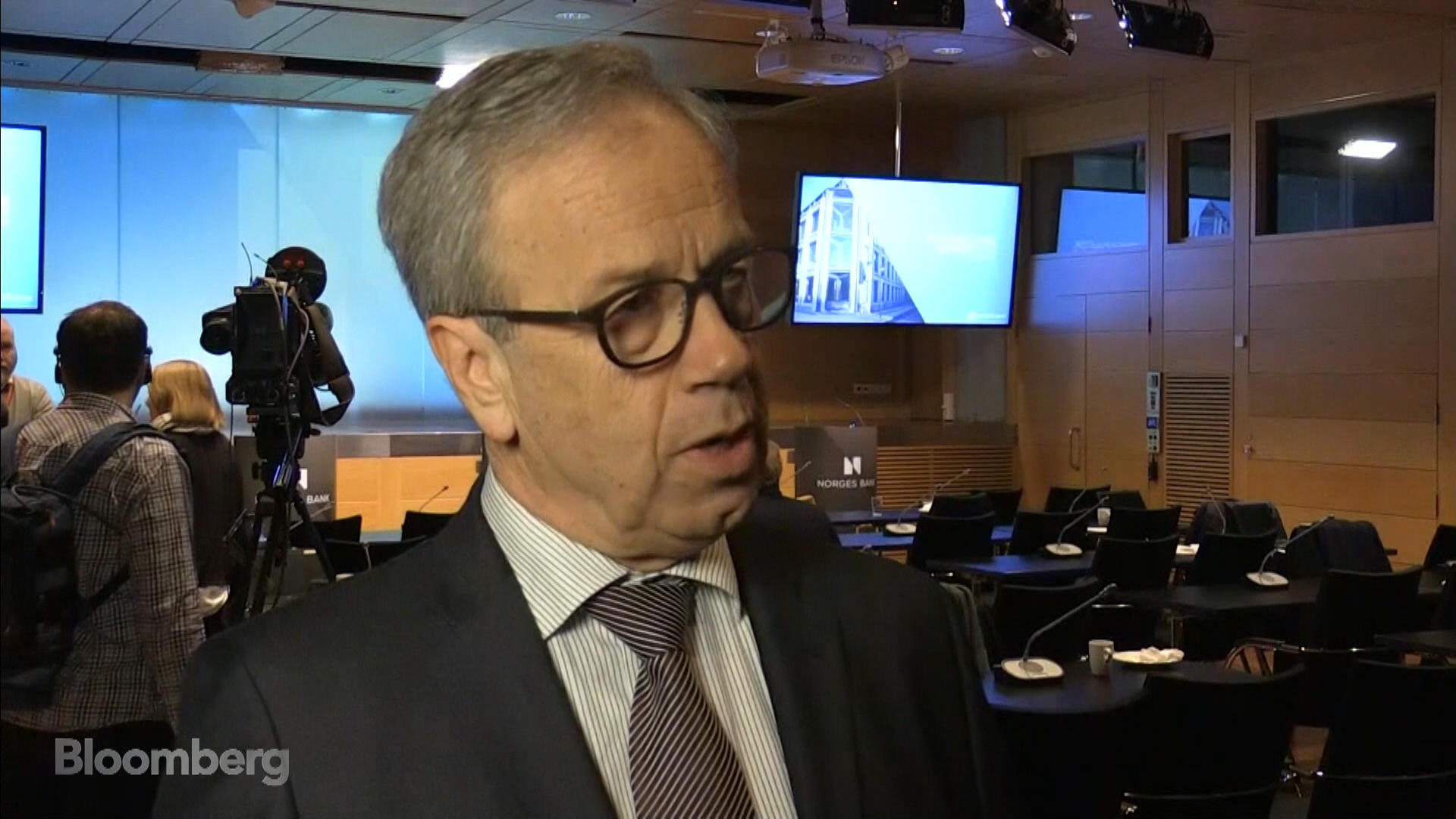 A few years back, economist Paul Krugman accused the Swedish Riksbank of "sadomonetarism" for neglecting its inflation mandate to steer the housing market. Is Norway now doing the same?
Norway's central bank on Thursday kept its main rate at 0.50 percent even as it projected an inflation rate far below its target over the next four years. It's trying to avoid further easing amid surging house prices, and instead pushed any projected increases well into 2019 and extended an easing bias all the way to the end of December 2018.

Slowing inflation is becoming a deepening dilemma for policy makers in Oslo as the economy of western Europe's biggest oil exporter is only slowly recovering from a battering over the past three years. Governor Oystein Olsen has flagged that he's reluctant to ease further because house prices are rising at a double-digit pace and household debt is growing.
In an interview after the rate decision, Olsen declined to comment on whether he would have lowered rates had it not been for the red-hot housing market. He said that the bank has the mandate to be flexible and can tolerate inflation of 1 percent to 2 percent.
"But inflation expectations seem firmly anchored and also as we see the picture now looking forward, inflation will pick up after some time," he said. "In that sense we are not worried about inflation prospects."
While Norwegian price growth for now is still far above zero, it has experienced a precipitous decline to start the year. Core inflation has fallen to well below the central bank's 2.5 percent target and in February came in at 1.6 percent -- a full percentage point below Norges Bank's own forecast.
The krone slid 0.4 percent to 9.16 per euro as of 1:37 p.m. in Oslo.
Olsen could risk falling into the same trap as his colleagues in Sweden, who have been forced to lower rates deep below zero and unleash a bond buying program to spark inflation. They went all out to reestablish credibility in their target after core inflation hit zero. That measure finally now in February reached the 2 percent target again after more than six years.
Read more on Sweden and Krugman debate
Svenska Handelsbanken said it might become difficult for the central bank to stick to its strategy.
"The chosen strategy still leaves core inflation no higher than an average of 1.4 percent in 2020; over a full percentage point short of the target," said Kari Due-Andresen, chief economist in Oslo, in a note. "If inflation continues to surprise to the downside, we wonder for how much longer Norges Bank can stick with this strategy. Should inflation expectations start to slip, they will certainly abandon it."
The most recent expectations survey, released by the central bank in February, showed households see inflation at 3.3 percent two to three years ahead. The 12-month outlook slid to 2.7 percent.
The reluctance to ease comes as the economy is showing signs of recovery after a three-year slump, with growth accelerating and unemployment falling. The central bank's regional network survey has also added to evidence that the momentum has changed, with output expectations for the coming six months climbing back to levels not seen since the oil shock of mid-2014.
The bank in its projections sees mainland growth of 1.6 percent this year and 2 percent next year. It predicted petroleum investments, a key economic component, will finally rise next year, after sliding almost 10 percent this year.
Government spending is also seen abating after record stimulus over the past years. Prime Minister Erna Solberg has acknowledged that outlays will be more moderate looking ahead after a record amount of oil money has been pumped into the economy to sustain growth.
Read more on government spending plans
— With assistance by Nicholas Rigillo, and Josh Robinson
Before it's here, it's on the Bloomberg Terminal.
LEARN MORE