N.J. Budget `Imbalanced' on Partial Pension Payments, S&P Says
By
Christie's 2018 plan leaves state 'vulnerable' to shortfalls

Even with record contributions, state's pension deficit grows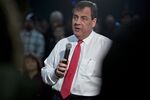 New Jersey's budget remains "structurally imbalanced" as Governor Chris Christie continues to make only partial payments into the state's retirement system, according to S&P Global Ratings.
Christie's proposed spending plan for fiscal 2018, which starts July 1, would leave the state with small reserves and "some vulnerability to potential revenue shortfalls," analysts David Hitchcock and John Sugden said Thursday in a report. Future budgets "look much worse," according to S&P, which reduced its credit rating on the state in November to A-, the fourth-lowest investment grade.
That downgrade was the 10th from the three-major rating companies under Christie, the most of any New Jersey governor. Christie, a second-term Republican, leaves office in January. His successor "will face tough funding decisions as early as fiscal 2019," S&P said.
"Underfunding in any year ratchets up future state liabilities, in effect pushing back the tide, as New Jersey comes closer to the day when it will be left with no choice but to confront its very significant retirement obligations," the analysts wrote.
Christie's proposed budget calls for a record $2.5 billion pension payment. Since taking office in 2010, he has contributed $8.8 billion to the system, which is more than double the total payments made by all governors during the 16 years before he took over, according to his office.
Even so, his contribution for the coming year is just half the most recent actuarial recommendation for the system, which has a $135.7 billion shortfall after years of increased benefits and failing to make adequate annual payments. New Jersey's pension system is the least funded among U.S. states.
"We have done more for the solvency and stability of the pension system than any governor in history despite all the empty rhetoric to the contrary," Christie said during his Feb. 28 budget address.
Christie's budget, if enacted, would leave New Jersey with a structural budget gap of about 9 percent of appropriations because of one-time fixes and the partial pension payment, S&P said.