Mnuchin, Schaeuble Try to Defuse U.S.-German Tension Over Trade
By and
Without fundamental shifts, they agree to work together

Berlin meeting precedes G-20 finance chiefs meeting in Germany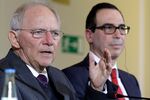 U.S. Treasury Secretary Steven Mnuchin and German Finance Minister Wolfgang Schaeuble toned down sparring over trade and the euro's exchange rate, saying the two governments will intensify talks and seek to avert open conflict.
"It is not our desire to get into trade wars," Mnuchin told reporters on Thursday after meeting with Schaeuble at the Finance Ministry in Berlin. He acknowledged Schaeuble's argument that Germany's export surplus is the result of a special situation because the European Central Bank sets interest rates for all 19 euro countries, not just Germany.
Schaeuble, at a joint news conference, said he explained the "complicated European construct" and that "we will ask our experts to get together and talk about" the trade surplus. The two ministers held their first talks a day before attending a meeting of Group of 20 finance chiefs in Baden-Baden, Germany.
Germany has rebuffed criticism by President Donald Trump's administration that it's gaming foreign-exchange markets. German leaders including Chancellor Angela Merkel have rejected claims that the countries trade surplus is based on unfair advantages, saying it's the result of competitive products and the differing strengths of the euro area's economies, rather than rigging. The U.S. had a $68 billion trade deficit with Germany in 2016, according to the U.S. Bureau of Economic Analysis.
Fair Trade
While pledging to cooperate on global financial governance and market stability, Schaeuble and Mnuchin stood their ground on key points, including some that have triggered concern in Europe about Trump's "America First" policy approach.
"The president is interested in making sure that our agreements are reciprocal, they're fair and reflective of making sure that the American worker is at least on the same playing field and can compete, whether it's in the business tax side" or trade agreements, Mnuchin said.
"It's not about lecturing each other. We will do our homework in Europe and we will do our part for global growth," Schaeuble said.
Ahead of Mnuchin's trip, Schaeuble warned his U.S. counterpart to be careful about rolling back Wall Street regulation, citing the lessons from the 2007-2008 financial crisis that spread quickly to Europe. Policy makers in Europe are wary of the U.S. easing regulations, fearing it will set off a race across the globe to cut the very rules imposed to prevent a repeat of the financial crisis.
Read more: G-20 Spa Trip Offers Bank-Rule Opening If U.S. Comes to Deal
Germany isn't the only nation that the Trump administration has criticized. It has also called out China and Japan for large trade surpluses, while at the same time pledging to turn America's trade policies in-ward. Mnuchin will use his first G-20 meeting to urge counterparts to follow through on their commitment to refrain from competitive currency devaluations, according to a senior Treasury official.
Earlier on Thursday, Mnuchin met with U.K. Chancellor of the Exchequer Philip Hammond in London. The two discussed the importance of the U.K. working "constructively" as negotiations to exit the European Union begin, according to a Treasury statement.
Before it's here, it's on the Bloomberg Terminal.
LEARN MORE