Lufthansa Fare Slide to Slow as CEO Seeks Further Cost Cuts
By
Profit will suffer 'slight' decline in 2017, carrier predicts

Spohr cheered by pilot deal but says more action needed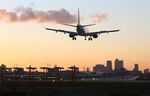 Deutsche Lufthansa AG said a slide in fares triggered by excess capacity is beginning to slow, easing the burden on earnings as fuel costs rise.
Adjusted operating profit will decline "slightly" in 2017 after the figure dropped 3.6 percent to 1.75 billion euros ($1.9 billion) last year, Lufthansa said in a statement Thursday. The guidance for this year compares with analyst predictions for a slump of about 20 percent to 1.42 billion euros.
Fares across Europe have been under pressure after weakening oil prices prompted airlines to add seats just as stuttering economies and a spate of terrorist attacks hurt demand. While Lufthansa's unit revenue -- a measure of prices -- fell 5.8 percent in 2016, the decline should be less severe this year, the German carrier said.
Chief Executive Officer Carsten Spohr said the company still needs to slash costs even after he sealed a pilot deal that may end years of labor strife on the eve of the earnings release. The accord covering pay and pensions will cut flight-crew expenses 15 percent, advancing his push to combat the challenge of Mideast airlines on long-haul routes and low-cost rivals in Europe.
Lufthansa shares rose as much as 5.8 percent and were trading 4.3 percent higher at 15.04 euros as of 1:36 p.m. in Frankfurt. The stock gained 1.8 percent after news of the labor deal Wednesday and is up 23 percent this year.
Fuel Bill
"It remains necessary to further reduce our costs," Spohr said. "This is the only way to meet and master the decline in unit revenues and the higher fuel expenses, and at the same time maintain and strengthen our financial stability."
Pressure to deliver savings will increase as Lufthansa's fuel bill jumps by 350 million euros this year. With crude prices rising, the International Air Transport Association predicts that European airlines as a whole are set for a 25 percent profit slump in 2017.
Spohr said a freeze on pilot hiring while continue until this week's outline deal is signed, and that Lufthansa could still move planes to a new airline outside its main labor agreement should the process stall. The accord will increase flying hours, pare entry-level salaries and pay short-haul pilots less to save about 150 million euros a year, becoming fully effective in 2018.
Lufthansa's chief financial officer, Ulrik Svensson, said first indications are that the erosion in fares is easing as predicted, based on forward bookings and favorable trading in January and February. The fourth-quarter slide in unit revenue was less than forecast at 6.4 percent, while costs were reduced by 6.1 percent, more than double the targeted rate.
Spohr has said he plans to lift capacity at the group's network carriers by 3 percent this year, while growth at the Eurowings discount division will slow to 19 percent from 27 percent. The low-cost arm has said its fares may fall 5 percent amid the capacity glut.
Lufthansa has also agreed to deepen ties with former foe Etihad Airways after a deal to lease 38 planes from the Abu Dhabi carrier's ailing German affiliate Air Berlin Plc. Spohr said he can envision taking over more aircraft, while Lufthansa is in talks about adding code-share routes with Etihad and a joint venture with Jet Airways (India) Ltd, in which the Gulf operator owns a stake.