G-20 Spa Trip Offers Bank-Rule Opening If U.S. Comes to Deal
By , , and
Finance ministers, central bankers convene in Baden-Baden

Global bank capital talks have stalled during Trump transition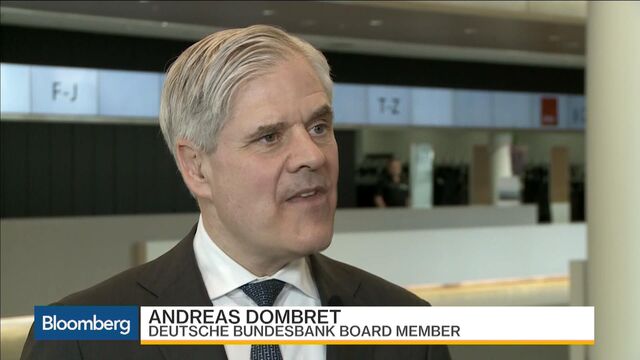 Germany is ready to compromise to break a deadlock between Europe and the U.S. on an overhaul of global bank capital rules. The question is who'll be sent from Washington to sit across the negotiating table.
The first chance to gauge the U.S. response to Germany's renewed push this week for a deal in the Basel Committee on Banking Supervision may come as soon as March 17-18, when finance ministers and central bankers from the Group of 20 nations descend on the spa town of Baden-Baden. A second opportunity will follow quickly at a meeting in Basel itself.
European regulators have been waiting months for President Donald Trump to install new faces at the four institutions that represent the U.S. on the Basel Committee, led by the Federal Reserve. Germany wants to ink a deal on new measures to stop banks gaming capital rules during its presidency of the G-20, whose focal point is a summit in July, according to a person familiar with the matter. But no breakthrough is possible until the U.S. negotiating team is formed.
"A swift resumption of negotiations would be in our common interest, especially as the ongoing regulatory uncertainty caused by the delay in finalizing Basel III is undoubtedly a burden for the banks," Jens Weidmann, president of Germany's central bank, said on March 15. "I hope that the upcoming meetings in Baden-Baden and Basel will lead to a return to the negotiation table."
Blunt Check
Talks in the Basel Committee bogged down late last year, when Germany and other European Union countries dug in their heels to oppose a proposed output floor -- a blunt check on firms' use of their own statistical models to measure asset risk that would drive up their capital requirements. In November, Bundesbank Executive Board member Andreas Dombret said the output floor had no place in the final package of rules.
The U.S. has long been skeptical of internal models, while Europe and Japan insist they provide more accurate assessments in many cases. The Basel Committee is trying to rein in abuse of the models while living up to a pledge that overall capital requirements won't increase significantly as a result of the revised rules.
Eric Kollig, a Fed spokesman, declined to comment on the development with Germany.
Dombret and Felix Hufeld, head of German supervisor BaFin, said on March 15 that they're now ready to compromise on the floor, even though they still don't much like it. Dombret said EU negotiators had successfully pushed back against excessive curbs on risk models.
Financial Reform
Germany's top regulators drove home the importance of completing the Basel III capital rules put in place after the financial crisis, a point intended not least for the ears of Trump, who has vowed to roll back financial regulation and pull the U.S. out of some international agreements.
To that end, Germany is willing to use its G-20 presidency to advance the idea of a "structured review" of financial reform to encompass what the U.S. may end up doing with financial regulation, so that there's as much internal consistency as possible, according to the person familiar with the discussions.
"It's true that new rules can be additional burdens for banks," German Finance Minister Wolfgang Schaeuble said on Thursday. "It's also true that not every regulation is good regulation, and it's perfectly okay to occasionally review regulation, to ensure that it is up to date, adequate and proportional."
The U.S. has "every right to change its approach," EU financial-services policy chief Valdis Dombrovskis said last month. "But as friends and allies, Europe is entitled to gently suggest international cooperation on financial governance is in everyone's interest."
Risk Assessment
Dombret was rather less gentle on March 15, expressing concern about talk of deregulation in the U.S. "If the Americans do not implement the Basel III framework, we Europeans will certainly not introduce the new rules unilaterally, and the whole world will suffer the consequences," he said.
Thomas Hoenig, vice chairman of the Federal Deposit Insurance Corp., a Basel Committee member, said on Thursday that the U.S. should consider abandoning Basel III.
"I'm not a fan of Basel III," he said in an interview. "It misallocates capital," because regulators prescribe risk weights for assets, he said. "The market is the one who has to judge the risk minute by minute, so let it do so. What I want is a core of capital, and let management then allocate the distribution of that capital to the risks that they are bringing on their books."
Faryar Shirzad, co-head of the Office of Government Affairs at Goldman Sachs Group Inc., said on Thursday that the Trump administration is probably still figuring out its stance toward global standard-setters like the Basel Committee.
'Aggressive Agenda'
Global rule-making in "most instances" has been "heavily driven by the U.S. regulators, who have driven a very aggressive agenda internationally," Shirzad said in Frankfurt. "So the question for this administration" is whether to "move unilaterally or work through the international system."
European banks have lobbied hard against the proposed changes to Basel III, which would hit them harder than U.S. firms. At the same time, they support maintaining a strong international framework as long as it recognizes regional differences
Whoever represents the U.S., reaching an agreement at Basel probably won't be easy, given its traditionally strong difference of opinion with Europe on output floors and risk-sensitive capital rules generally. But that's nothing new.
"There's an opportunity for the U.S., Japan, Europe and the world to actually come together, not on rolling back regulation, but looking at the unintended consequences and addressing them," Shirzad of Goldman Sachs said. "Whether this administration will want to do that, we don't know.