Flynn Paid Thousands for Work With Russian Firms, Documents Show
By
Cyber firm with ties to Russian intelligence paid $11,250

House Democrats release records of former Trump adviser's fees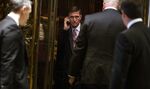 Former U.S. National Security Adviser Michael Flynn received more than $45,000 from RT, the Russian government-backed television network, for his participation at a December 2015 gala where he sat at President Vladimir Putin's table, according to documents released Thursday by congressional Democrats.
Flynn also received $11,250 for a 2015 speaking engagement in Washington for Kaspersky Government Security Solutions, Inc., a U.S. subsidiary of Kaspersky Lab, a Russian cybersecurity firm, according to the documents. That firm was caught up in a Russian espionage investigation in December. Russian prosecutors have charged a manager at Kaspersky Lab with treason, saying he and two Russian information-security officials were "interacting" with U.S. intelligence officials, according to a defense lawyer in the case.
Flynn, who had served as director of the Defense Intelligence Agency from 2012 to 2014, "both informed and fully briefed" that agency about his Russia trip beforehand and when he returned, said Price Floyd, a spokesman for Flynn. President Donald Trump named Flynn as his National Security Adviser last November; Flynn resigned that post in February after reports that he misled Vice President Mike Pence about the nature of his contacts with the Russian ambassador to the U.S.
Cyber Firm's Payment
The payment from Kaspersky Lab was a speaking fee for Flynn's appearance at an October 2015 cybersecurity forum in Washington, the company said in a statement. "As a private company, Kaspersky Lab has no ties to any government, but the company is proud to collaborate with the authorities of many countries, as well as international law enforcement agencies in the fight against cybercrime," the company's statement said.
Democrats on the House Oversight and Government Reform Committee secured the documents confirming the payments from Flynn's speaker's bureau, which took a cut of the payments, the documents show. In addition to RT and Kaspersky, the documents showed that Flynn also received an $11,250 payment from Volga-Dnepr Airlines, described on its corporate website as "the world leader in outsize and heavyweight air cargo."
Watch Next: Trump Says General Flynn Did Nothing Wrong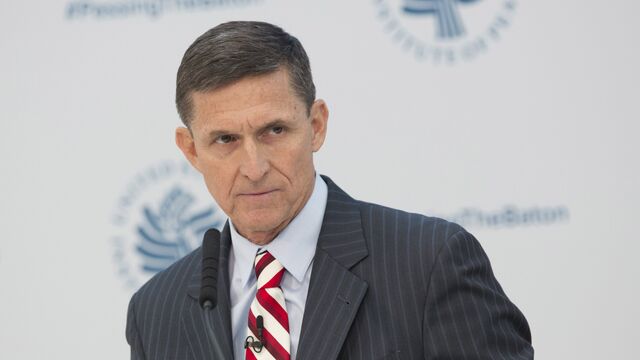 Flynn's payment from Kaspersky may raise new questions about the retired Army lieutenant general's interactions with Russia. Kaspersky Labs, a Moscow-based cybersecurity firm that makes some of the world's most widely used anti-malware programs, has documented ties to Russian intelligence agencies.
The company's founder, Eugene Kaspersky, was educated at a KGB-sponsored cryptography school, and worked as a Russian intelligence agent. An investigation by Bloomberg Businessweek in 2015 found that the company frequently used data collected from its hundreds of millions of customers to aid Russian authorities -- including the KGB's successor, the FSB -- in criminal investigations. Since 2012, the story reported, many high level positions at the company have been filled with former Russian military and intelligence agents.
Government Sponsorship
"Eugene grew up in the Soviet Union era when most education opportunities were typically tied to the government in some manner," Kaspersky Lab said in a statement. His school "had multiple government sponsors, one of which was the KGB," the statement said.
Flynn had made conflicting statements about any payments he received for his December 2015 appearance at RT, the television network, in Russia. Asked about it in July by Yahoo, he said: "I didn't take any money from Russia, if that's what you're asking me." He later acknowledged having been paid, and referred questions to his speaker's bureau, Washington-based Leading Authorities Inc.
Retired Army personnel are not supposed to accept honoraria from foreign governments or from companies with significant ties to them without prior approval, which officials consider a violation of the U.S. Constitution's "emoluments clause." Members of the House oversight panel said they previously sought documentation that Flynn had such approval and said the Department of Defense told them there was none.
Democrat's Response
"I cannot recall any time in our nation's history when the president selected as his National Security Adviser someone who violated the Constitution by accepting tens of thousands of dollars from an agent of a global adversary that attacked our democracy," wrote Representative Elijah Cummings of Maryland, the oversight panel's top Democrat, in a letter dated March 16 to Trump, Secretary of Defense James Mattis and FBI Director James Comey.
"I also cannot recall a time when the president and his top advisers seemed so disinterested in the truth about that individual's work on behalf of foreign nations -- whether due to willful ignorance or knowing indifference," Cummings wrote.
The White House press office didn't immediately respond to a request for comment.
Turkish Issue
Last week, Flynn raised questions about whether he'd done work to benefit another foreign government. He retroactively registered as a foreign agent with the Justice Department for work that his firm, Flynn Intel Group, did for a Dutch consulting company,  Inovo BV, which has ties to President Recep Erdogan of Turkey. Flynn's filing showed that his company received $530,000 from Inovo between Sept. 9 and Nov. 14.
Flynn's attorney, Robert Kelner, wrote in a letter accompanying the filing that Flynn had previously registered with Congress under the Lobbying Disclosure Act, but made the new filing because the work could have been interpreted as benefiting the government of Turkey. Lobbying on behalf of a foreign government requires registration with the Justice Department.
Flynn wrote an opinion piece for The Hill newspaper in November based on the work his firm did for Inovo. One of Flynn's employees, Bijan Rafiekian, met twice with Miles Taylor, national security adviser to the House Committee on Homeland Security, according to the disclosures filed with the Justice Department.
Ekim Alptekin, the owner of Inovo, is chairman of the Turkey-U.S. Business Council, and is close to Erdogan. He posted a series of tweets after Flynn's filings became public, saying "Gen. Flynn never engaged in lobbying work for me or my firm," and called their work "a legitimate commercial relationship," while providing no detail. Alptekin also wrote that Flynn "never lobbied or contracted lobbyist" to work for the Turkish government.
— With assistance by David Kocieniewski, and Bill Allison
Before it's here, it's on the Bloomberg Terminal.
LEARN MORE