Fillon Says Dutch Vote Shows Center-Right Tackles Populism Best
By
French Republican candidate running in third place before vote

Anti-euro Le Pen set to make French presidential runoff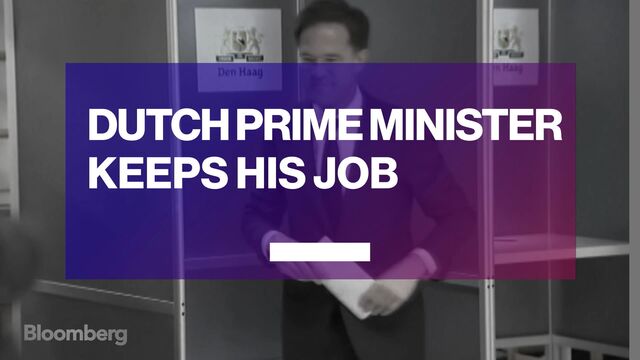 French presidential candidate Francois Fillon said the outcome of the Dutch election shows center-right parties like his Republicans are best-placed to fight the rise of populism.
"This success shows once more that when the right and the center have a clear platform and defend their values without any concessions, they're the best defense against populism and extremism," Fillon said in a tweet Thursday.
Dutch voters gave victory to pro-European parties including Prime Minister Mark Rutte's Liberals in Wednesday's vote, beating off the anti-Islam Freedom Party of Geert Wilders, who had pledged to pull the Netherlands out of the European Union, abandon the euro and stop immigration by Muslims.
Running on a pro-business, pro-trade platform, Fillon was the initial front-runner in France's presidential race after winning the Republican nomination in November. Yet he has been slipping in polls since due to a series of scandals concerning his employment of his wife and children for potential no-show parliamentary jobs. Fillon was charged with embezzlement this week.
Far-right candidate Marine Le Pen, who is seeking to take France out of the euro zone and stop immigration, is polling at about 27 percent for the first round on April 23 though she's projected to lose to independent Emmanuel Macron by more than 20 points in the runoff. Fillon is polling in third place, 6 points behind Macron.