Europe Gets Reprieve in Dutch Election, But the Center Fragments
By
Centrist revival is now as likely as populist 'Spring'

Traditional parties still losing votes, weakening governments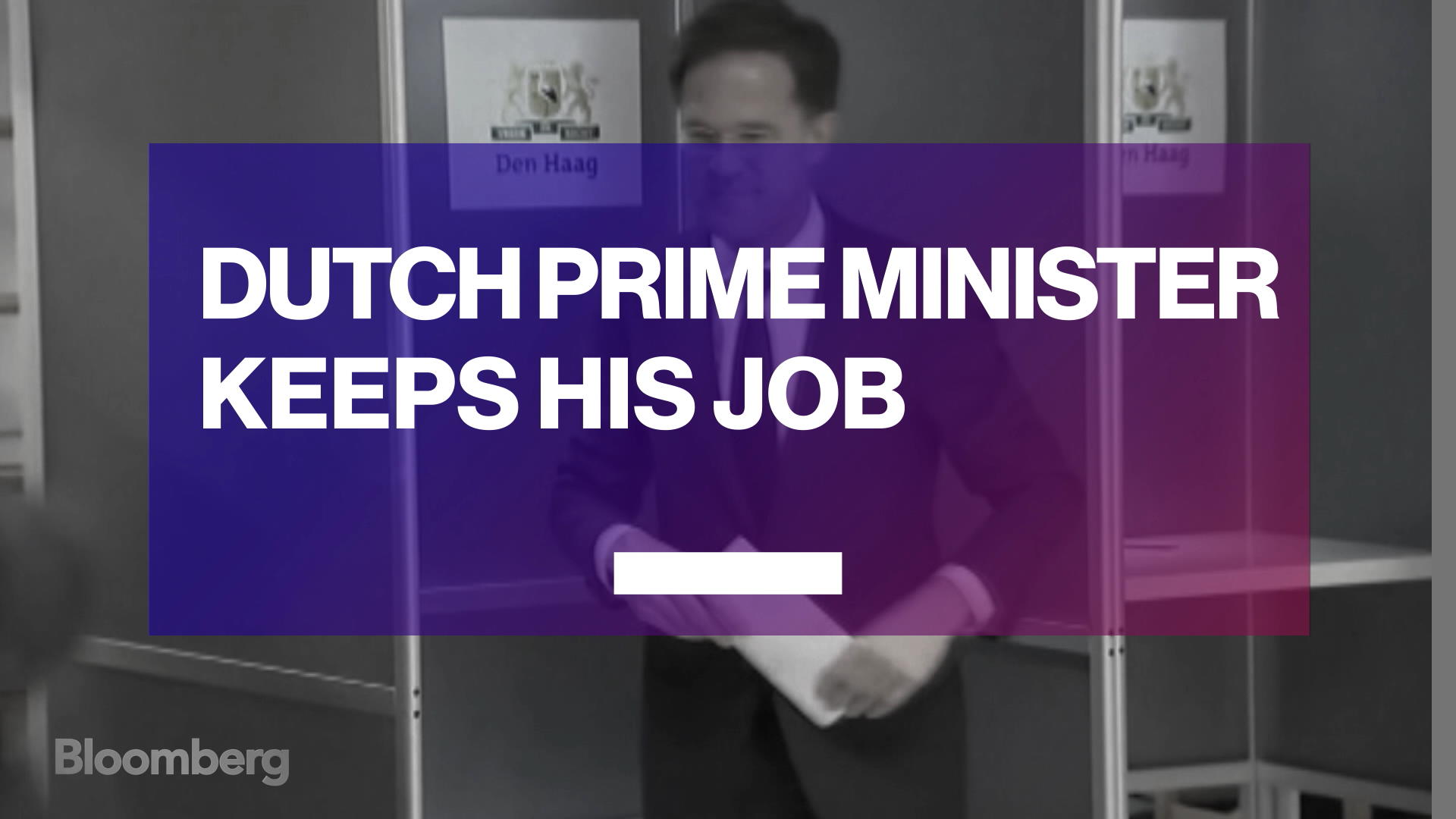 When Donald Trump was elected U.S. president in November his Dutch equivalent, Geert Wilders celebrated the arrival of a "Patriotic Spring" that would lift anti-immigrant nationalists to power across Europe. That uprising failed to materialize in the Netherlands.
Instead, the populist breakthrough Wilders had predicted for 2017's run of elections starting in his homeland, followed by France, Germany and perhaps Italy now looks no more likely than a centrist, pro-European revival.

The year could end with Dutch Prime Minister Mark Rutte still in power, the unabashedly reformist, pro-European Union Emmanuel Macron in the Elysee Palace, and either Angela Merkel or the still more EU-friendly Martin Schulz in the chancellery in Berlin, breathing signs of life into the bloc's tired Franco-German engine.
"The Netherlands shows us that the breakthrough of the extreme right is not inevitable and that European progressives are growing in strength,'' Macron wrote in one of a stream of Tweets from relieved politicians around Europe. Merkel's office posted that she had called Rutte to say she looked forward to working together as "friends, neighbors and Europeans.''
The euro soared after the first exit poll indications of a Rutte victory, winning a projected 33 seats in parliament to Wilders's 20, before losing its gains as any sense of euphoria faded.

Wednesday's vote was encouraging mainly for what didn't happen. An upset win for Wilders would have eroded faith in opinion polls that currently suggest the hard right National Front's Marine Le Pen will lose in the second round of French presidential elections in May. That's an election with far greater potential repercussions for the European Union and the bloc's $17 trillion economy. Le Pen, like Wilders, has pledged to try to take her country out of the euro and threatens all sorts of trouble for the EU should she win.

"There was a narrative, which was very strong, that exaggerated the strength of the populist right after Trump and Brexit," said Cas Mudde, a Dutch political scientist and authority on populism at the University of Georgia, in the U.S. "That narrative can switch pretty fast."
Won't Last
Still, the results offered little evidence that Wilders, whose Freedom Party won four more seats than in 2012, populism or the concerns that feed them have gone away.
"What we've seen in the Dutch election is that the center has been holding," UBS Group AG Chairman Axel Weber said in an interview with Bloomberg Television on Thursday. "That leads to a short relief rally in the market. It's not going to last."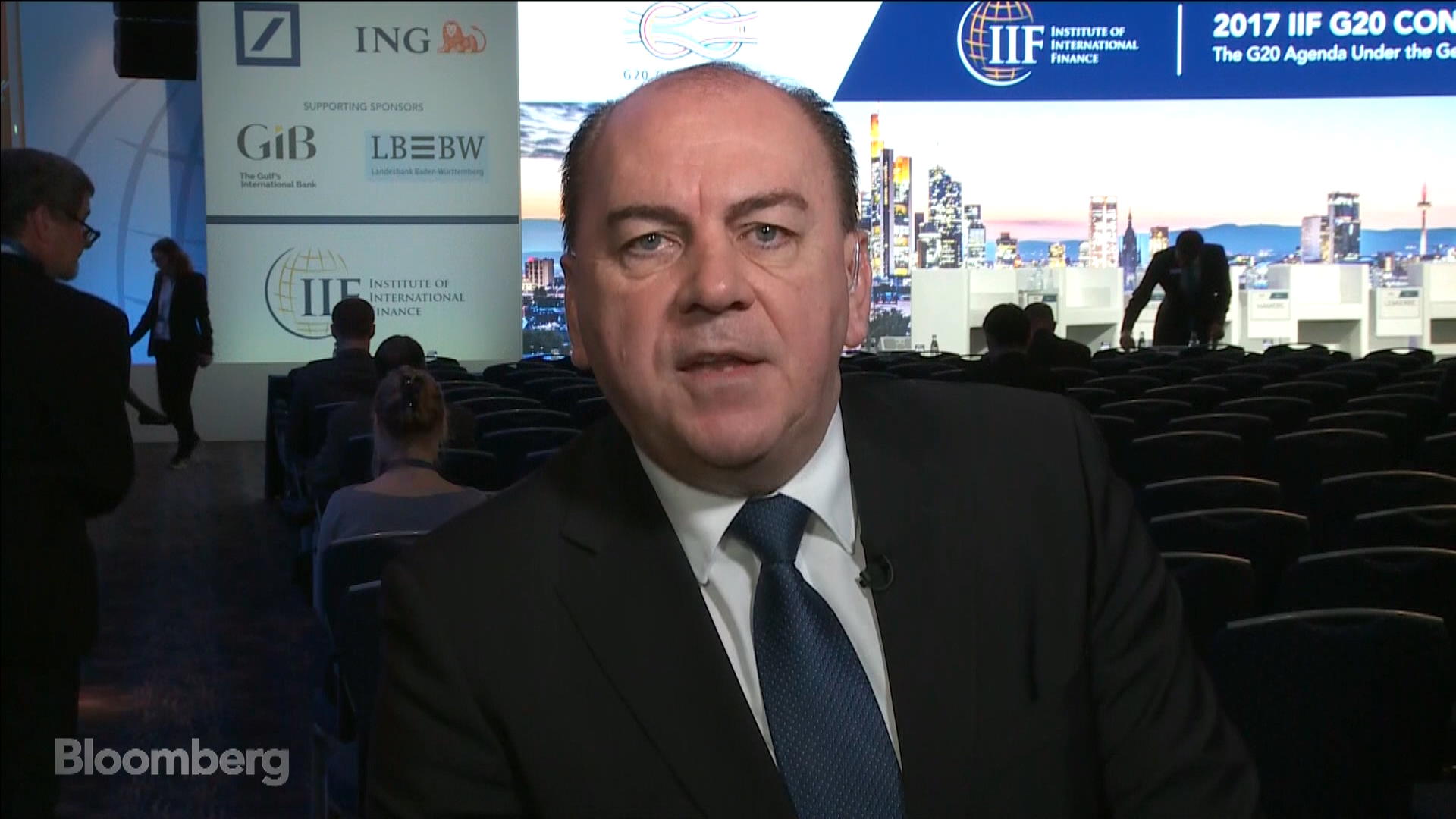 A River Journey Shows Why Populists Can't Win Europe's Heartland
One problem is that the Dutch vote only underscored the worrying fragmentation of Europe's political center, which tends to make driving through effective solutions to popular concerns more difficult. Rutte's Liberals lost seats compared to the last election, while his former Labor party coalition partners had their worst night on record. To govern this time, Rutte will need at least three other parties to form a majority in the 150-seat Dutch parliament.

Similarly, if Macron should win in France, a large number of left-wing voters will have backed him to defeat Le Pen, rather than to endorse his policies. Polls suggest that Merkel, too, would emerge with a weaker mandate if she manages to defeat Schulz in the fall.
"The key thing, which is hard to measure but more and more important, is how many people vote against a candidate, and not for someone," said Mudde. "The consequences are very big, because that someone comes to power without a real mandate."
Disaffected
That could make any sweep of centrist victories more a remission than a revival, according to Charles Grant, director of the Center for European Reform in London. Mainstream political leaders will continue to struggle to find answers to rising public concerns over jobs and identity that the euro crisis, terrorist attacks and the 2015 influx of refugees from the Middle East have pushed to the fore, he said. He added that it would only take a big terrorist attack or renewed wave of refugees to change the outlook for the French election, or Europe in general.
A Europe-wide poll last year found majorities dissatisfied with democracy, in favor of banning further Muslim immigration, and convinced the U.K. would not be the last country to abandon the EU. In most of the 12 countries surveyed, a plurality also opposed further EU integration, which may be needed to permanently stabilize the euro.
"There really isn't any sign" that EU leaders are starting to get to grips with these issues, said Grant. "If the EU was a dynamic organization capable of answering these questions, the U.K. would not be leaving."
That suggests claims such as from the British pollster Peter Kellner that "Peak populism" may already have been reached are at least premature. With almost two months to go before the final round of the French presidential vote, and former Prime Minister Silvio Berlusconi plotting to replace a caretaker Italian government in a political comeback that features a pledge to bring back the lira, there is scope for a populist resurgence.
Moreover, Rutte appeared to gain significantly in the final days of the Dutch election campaign by adopting some of Wilders's populist language on immigration. In particular, he responded robustly to attempts by the Turkish government when it tried to campaign among expatriates for a coming constitutional referendum in Turkey. Celebrating his victory in the early hours of Thursday, Rutte said voters had rejected "the wrong kind of populism.''
Before it's here, it's on the Bloomberg Terminal.
LEARN MORE