De Blasio Clears Re-Election Hurdle After Corruption Probes End
Henry Goldman and Christian Berthelsen
Acting U.S. Attorney issues rare statement on investigations

Decision eases N.Y. mayor's path in campaign for second term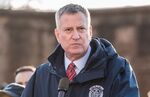 New York Mayor Bill de Blasio's re-election campaign became a lot less complicated after federal and state prosecutors both dropped pay-to-play investigations into his fundraising practices.
Acting U.S. Attorney Joon H. Kim took the rare step Thursday of announcing his office doesn't plan to file charges, so as not to influence this year's mayoral election. Manhattan District Attorney Cyrus Vance concurrently ended his yearlong investigation, concluding that "the facts here do not make out a provable violation of the Election Law's criminal provisions."
 
The probes threatened to ensnare the mayor and some of his aides in a prolonged defense of fundraising activities as the first-term Democrat campaigned for a second term. The investigations also made him vulnerable to a challenge from within his own party or even from a Republican, despite the Democrats' more than six-to-one voter-registration edge.
"In all likelihood this is the election," said George Arzt, a Democratic political consultant who was press secretary to former Mayor Edward Koch. "De Blasio now has a clear path to a second term."
Donor Favors
The 55-year-old mayor has faced at least five investigations into allegations that he doled out favors to donors, yet the two most serious involved those undertaken by Vance and Preet Bharara, the former U.S. Attorney for the Southern District of New York, one of 46 federal prosecutors appointed by President Barack Obama who were fired by President Donald Trump last week. 
"From the beginning -- it's basically a year -- I've been saying we acted appropriately," de Blasio said in an interview on WNYC radio. "We held ourselves to a very high standard and we will continue to." The mayor said his administration "cooperated from the very beginning. We said we wanted to help in any way we can and we did."
Kim's statement ending the investigation confirmed that de Blasio and his aides solicited donations for his 2013 election campaign and to advocate for mayoral policies from people who sought and received favorable city actions. Yet the "totality of the circumstances," including a lack of personal profit derived from the scheme, weighed against filing charges, Kim said.
Kim also cited "the high burden of proof" and the "particular difficulty in proving criminal intent in corruption schemes."
No Charges
Vance, in a 10-page letter to the state elections board, detailed evidence collected in a parallel probe while concluding that his office also decided to close the case without charges.
Vance recommended revised laws that would make it impossible for candidates or officeholders to circumvent donation limits and reporting requirements to raise money for general purpose policy-oriented campaign committees, as de Blasio did in his first two years as mayor. 
De Blasio's Campaign for One New York, a $4 million non-profit organization, raised money from unions, real estate developers and other companies doing business with the city, to push for mayoral initiatives such as universal all-day kindergarten. The mayor also raised millions of dollars from the same sources in a failed attempt to support Democratic candidates for state Senate.
The mayor closed Campaign for One New York in March last year, saying its work had been accomplished. Its demise coincided with the probes after allegations surfaced that donors received favorable actions from the administration.
Deeds Done
In one instance the administration lifted a deed restriction requiring a building on Manhattan's Lower East Side to be used as a nonprofit nursing home. The action netted developers more than $70 million after they sold it for luxury condominiums. The mayor, describing himself as "livid that this happened," denied knowledge of the deal and has said he's trying to reverse it.
"None of this was helpful to him in raising funds for re-election," said Frank Seddio, the Democratic chairman in de Blasio's home turf in Brooklyn. "It's good news for the city in that the mayor can now pay full attention to doing his job. I don't see anyone posing a strong challenge to him."
In a Feb. 28 Quinnipiac University poll of registered voters, the mayor scored his highest job-approval rating in a year, 50 percent to 42 percent. He topped real estate investor Paul Massey, who's raised $2.5 million to secure the Republican mayoral nomination, 59 percent to 25 percent.
Massey, in a statement, said that despite the end of the investigations, "the stench of corruption emanating from City Hall remains."
Robert Shapiro, a political science professor at Columbia University, said questions linger that could create political difficulty for de Blasio as he campaigns. 
"De Blasio's critics can still claim he acted unethically and that he appears to be a crooked politician," Shapiro said. "But this is less persuasive than pointing to an active prosecution."
Bradley Tusk, a political consultant who created a website that sought a rival to defeat de Blasio, said the prosecutors' decision all but ensured the mayor's re-election.
"New Yorkers deserve a mayor who isn't under a constant ethical cloud, who comes to work before 11 a.m., and who takes the job seriously," Tusk said in an email. "Although the city deserves far better than this, the people best positioned to succeed in a Democratic primary are now unlikely to run, and we should therefore expect four more years of Bill de Blasio."
Before it's here, it's on the Bloomberg Terminal.
LEARN MORE