Chinese Name-And-Shame TV Pares $265 Million Off Japanese Shares
Bloomberg News
Ryohin Keikaku, Calbee slide after mislabeling accusation

Consumer-protection show's annual list widely followed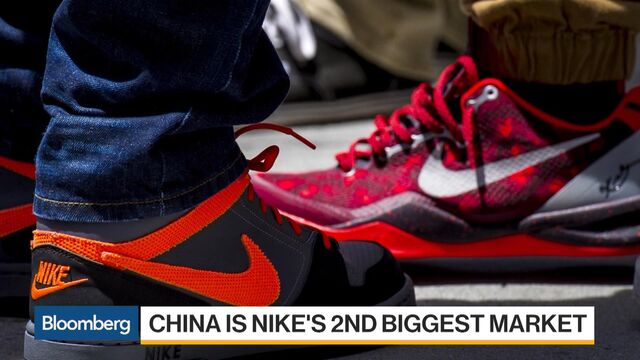 Two of the Japanese companies criticized by a widely followed consumer-protection show on state-run television in China fell in Tokyo trading, wiping a combined 30 billion yen ($265 million) off their market value.
The annual program, a "name-and-shame" show that aims to uncover abuses by companies, said retailer Ryohin Keikaku Co. had sold mislabeled products, including foods by snackmaker Calbee Inc. Labeling on some items concealed their origin as being from areas of Japan from which imports to China are banned on concern of possible radiation contamination, CCTV said in its Wednesday night program.
The unwelcome publicity comes at a time when Japanese companies including Ryohin Keikaku and Calbee are counting on China's vast market for growth. The Japanese operator of the Muji "no brand" chain does not sell products that contain ingredients from parts of Japan on the China import-ban list, Fuminari Kozuka, spokesman for the company said by phone. Labels added on products are to provide Chinese-language information, not to conceal ingredients' place of origin, he said.

The China Central Television broadcast, which coincides with World Consumer Rights Day, is a reflection of the growing clout of China's 1.4 billion consumers, who make the country essential for foreign companies in industries from fast-food to retailing and carmaking. The show has targeted some of the world's biggest brands in the past, including Apple Inc., McDonald's Corp. and Volkswagen AG.
Ryohin Keikaku shares fell as much as 4.3 percent, before trimming the decline to 1.5 percent as of the 11:30 a.m. break in Tokyo trading. Calbee dropped as much as 4.3 percent. CCTV accused the food processor of providing breakfast cereal in China sourced from import-banned areas of Japan. Calbee spokeswoman Kazuka Nohara said by phone the company does not directly export the cereal to China.
China restricts imports from areas of Japan it has deemed at risk for radioactive contamination after the 2011 nuclear meltdowns at a power station in the country's northeastern Fukushima prefecture.
Higher Scrutiny
Foreign companies haven't adjusted to the higher scrutiny they're facing in China, said Congcong Zheng, an associate professor of management at San Diego State University.
"What used to be tolerated is no longer tolerated," she said. "Chinese consumers are empowered by the information available on the internet and they have higher expectations and standards now. Foreign companies should be extra careful when operating in China."
Among the biggest names targeted in Wednesday's CCTV broadcast was Nike Inc. The show included an accusation that the Beaverton, Oregon-based shoe and sportswear maker sold basketball shoes that didn't include the advertised Zoom Air sole cushions, according to CCTV.
Nike said Wednesday that it learned in April of last year that 300 pairs of its Hyperdunk 2008 FTB were sold in China that inaccurately stated the shoe contained airbags. The consumers were contacted and offered compensation and an apology, the company said.
"Nike is committed to providing consumers with the highest product quality and service, and we will fully cooperate with the government regulators regarding their inquiries," the company said in a statement.
Swift Reaction
Reaction was swift to the "3.15 Gala" show, which relied in part on hidden cameras and reporters disguised as shoppers. Immediately after the program, the state-run broadcaster aired a live televised segment at Nike's office in Shanghai, where authorities questioned the staff.
A trade official said the government has started an investigation after finding that the company sold the 300 pairs of falsely advertised sneakers.
Also shortly after the program, Chinese e-commerce giant Alibaba Group Holding Ltd. said it has been tracking and blocking "abnormal" Japanese nuclear-contaminated products since 2011, according to a Weibo post from the company. Alibaba has deleted 22,000 links to suspected products and has taken actions against 4,108 businesses in 2016, it said.
The show also targeted two e-commerce sites that sold Japanese products ranging from rice to milk powder from radiation-contaminated areas in violation of Chinese customs rules, it alleged. One of the sites was backed by By-Health Co., a local maker of nutritional supplements.
Consumer Complaint
In Nike's case, the broadcast featured a customer who complained to the company but was not properly compensated by the shoemaker, which the broadcaster said violated China's consumer-protection law.
Nike's shares dipped as much as 0.9 percent on Wednesday before rebounding. They closed up 0.7 percent at $57.66 in New York.
In 2012, Nike was fined 4.87 million yuan ($704,000) by Chinese authorities for a similar offense, state media reported at the time. The shoe company reportedly advertised shoes as having two double air cushions when they in fact had only one.
Apple Apology
The show attracts eyeballs and results. Apple's Tim Cook apologized in 2013 and McDonald's retrained some workers in 2012 after the companies were put in the hot seat. In recent years, the program has shifted to become less hostile toward foreign companies and also turned the spotlight on domestic brands. Ele.me, a local food-delivery website that was a target last year, recently launched a food-safety campaign.
The highlight on consumer protections comes as the government plans to generate more growth through consumer spending, with the economy transitioning away from a reliance on heavy industry and exports.
Chinese consumers are gaining in clout, with the average urban household income tripling in the past decade. The country's shoppers are expected to push online retail sales to as much as 14 trillion yuan ($2 trillion) in 2021 from about 5 trillion yuan last year, according to market researcher Mintel Group Ltd.
Previous shows targeted homegrown powers Alibaba and China Mobile Ltd. The e-commerce giant has struggled to keep counterfeit products off its websites. China Mobile, the country's largest wireless carrier, was targeted in 2015 for enabling fraudsters who impersonated banks and the police to obtain money.