How China's Capital Curbs May Be Paying Off
Bloomberg News
Cross-border payment inflows revived as controls take effect

Restrictions should be fine tuned to maintain calm: UBS' Kwok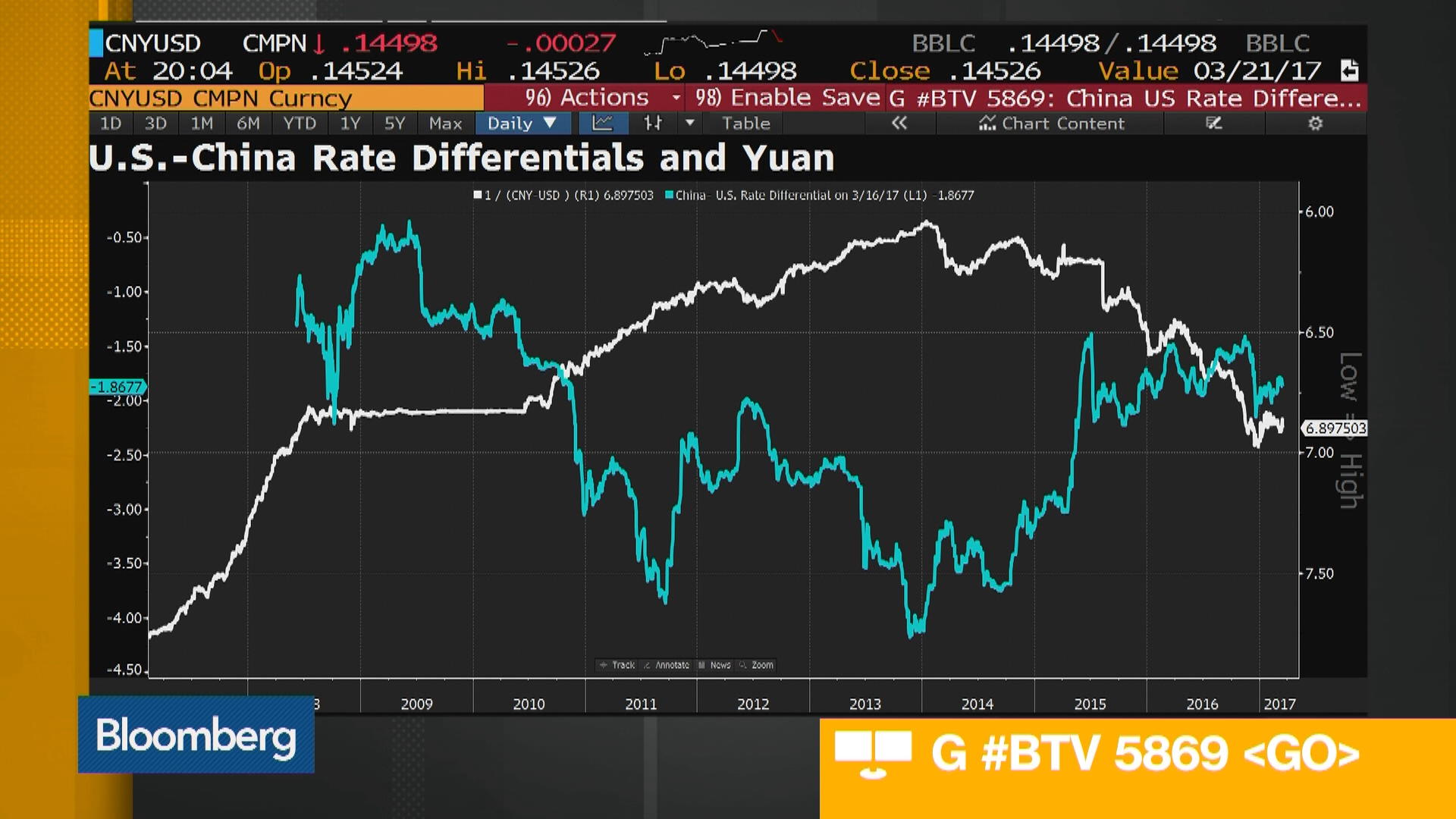 China's capital controls are biting, but that doesn't mean policy makers can relax.
The curbs -- under fire from company chiefs to offshore investors -- are keeping order in Chinese markets, which risk descending into volatility should authorities loosen their grip on money flows and the yuan, says Thomas Deng, UBS Wealth Management's chief China strategist. This concern has the firm's parent bank and Standard Chartered Plc backing the controls as well.

"For China, tighter capital control is controversial in theory, but more feasible in practice," Deng said by phone from Hong Kong. "The financial market is still at a nascent stage, so some investors tend to hold extreme expectations. If the yuan tumbles in such a situation, the market will become turbulent and the real economy will suffer -- which is not good for anyone."
This year, the stakes are high. Officials have pledged stability in the currency market as a twice-a-decade Communist Party leadership reshuffle looms. Memories of 2016's equity selloff, which whipsawed trading globally at the start of the year, are also fresh.
While Chinese assets are strengthening amid evidence of economic green shoots, there are a lot of unknowns - from the threat of a trade war with the U.S. to the shift in global monetary policy. The People's Bank of China boosted borrowing costs hours after the Federal Reserve's rate hike Thursday, keeping step with the U.S. as a way of maintaining equilibrium in the yuan.
February saw the first net fund inflows via cross-border payments since June 2015, data from the currency regulator showed Thursday. Meanwhile, net outflows via yuan payments slowed to the equivalent of $5.5 billion, down from a record $44.7 billion in September, as the wall of obstacles built by officials over the past four months to prevent money leaving China took effect.
There are more signs the curbs are paying off: 
The percentage of export proceeds converted back into yuan rose for two straight months, reaching 62 percent in January, the highest level since May
Net inbound direct investment climbed in the last quarter of 2016 to the highest level since the second three months of 2015, preliminary balance of payments data show. Part of this was because of a drop in overseas investment
While the category of foreign debt that includes companies shrank by about 25 percent between end-June 2015 and end-March 2016, it's since been rising, according to the regulator. China has been encouraging companies to borrow abroad to stoke inflows
And the results so far are promising. The yuan has gained 0.6 percent in 2017 to 6.9030 per dollar on Friday after its worst year in more than two decades, while bets on future volatility in the currency are the lowest among emerging markets.
Keep Calm
The controls, which include limits on companies' offshore investments and hurdles to currency conversion, have worked, said Donna Kwok, senior China economist at UBS Group AG in Hong Kong. However, "for this relative calm to be maintained, you'd have to see continued smart fine-tuning of capital outflow controls, and more measures being rolled out to encourage inflows, from foreign investors and Chinese corporates alike," she said.
Read more here about what spurred the outflows from China
China needs even tighter capital curbs to scupper expectations that the yuan will continue to depreciate this year, Karen Tan, an analyst at Bank of Communications Co. in Hong Kong, said in a January note. China should be wary of the spillover effects of Fed tightening, Economic Information Daily said in a front-page commentary on Friday.
This could encounter opposition. In an unusual step, executives at three Chinese companies criticized the controls as the National People's Congress took place in Beijing this month. Acquisitions abroad have slumped by more than 70 percent in 2017 compared with a year earlier, a retreat the company chiefs attributed to the limits on outbound capital.
Read more: China's Capital Controls Trigger Backlash as Deals Thwarted
Huang Yiping, a professor at Peking University and adviser to the PBOC, said this month that China's campaign to internationalize the yuan -- which scored a victory last year when it became one of the International Monetary Fund's reserve currencies -- is being "wasted" because of the controls. Foreign investors and bodies representing offshore business interests in China have also voiced concerns.
PBOC Deputy Governor Pan Gongsheng defended the curbs in an interview
While the costs to companies and M&A are high, the capital controls have relieved pressure on China's foreign-currency reserves, which fell by a quarter from a peak in 2014 amid the central bank's efforts to arrest losses in the yuan. The stockpile, the world's largest, snapped a seven-month slump in February, rising back above $3 trillion from an almost six-year low.
With the Fed's tightening path potentially igniting volatility in markets, it's too early for officials to ease up, said Ding Shuang, chief China economist at Standard Chartered in Hong Kong.
"There would be a lot of speculative bearish trades," Ding said. "If China didn't choose to tighten capital curbs, but let reserves fall or the yuan weaken, the currency market could fall into a vicious cycle of fund exodus and further depreciation."
— With assistance by Tian Chen, and Justina Lee
Before it's here, it's on the Bloomberg Terminal.
LEARN MORE