Charter CEO Awarded $98.5 Million Pay to Stay on Job Until 2021
by , , and
Most of his pay comes from stock options tied to share price

Follows aquisitions of Time Warner Cable and Bright House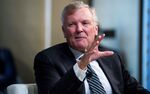 Charter Communications Inc. Chief Executive Officer Thomas Rutledge was awarded a $98.5 million pay package in 2016 after signing a new employment agreement that keeps him on the job until April 2021.
Rutledge, 63, who is also chairman, received stock options valued at $78 million last year, according to a regulatory filing Thursday by the Stamford, Connecticut-based company. The options were granted as part of his new contract and are the only equity compensation he'll receive through 2020. He earned $16.4 million in total pay the year before.
Charter completed its $55 billion takeover of Time Warner Cable Inc. and Bright House Networks LLC, a smaller cable provider, in May. By acquiring them, the company gained 13 million customers in cities like New York, Los Angeles and Dallas, becoming the closest competitor to U.S. cable market leader Comcast Corp.
A major Charter investor and board member is John Malone, the billionaire cable pioneer known for ensuring that executives at companies he's involved with are paid well. Greg Maffei, a Malone confidant and CEO of Liberty Media Corp., sits on the compensation committee of Charter's board.
Rutledge's options will vest if the company's average share price reaches hurdles ranging from $289.76 to $564.04 over a 60-day period. No vesting will happen prior to April 2019.
Rutledge's 2016 pay also included $2 million in salary and $10.1 million in stock awards that vest based on similar conditions as his options. He also got a $7.65 million cash bonus.
Among Rutledge's deputies, Chief Operating Officer John Bickham received a stock-option grant of $35.3 million for 2016 and Chief Financial Officer Christopher Winfrey was awarded $23 million in options.
Charter shares gained more than 42 percent last year, compared with a 9.5 percent rise in the S&P 500 Index.
Before it's here, it's on the Bloomberg Terminal.
LEARN MORE