Case Grows for Japan Stocks to Rise Outside of Yen's Shadow
By
Japanese currency and equities are both rising this year

Evidence of a decoupling in the relationship: Goldman Sachs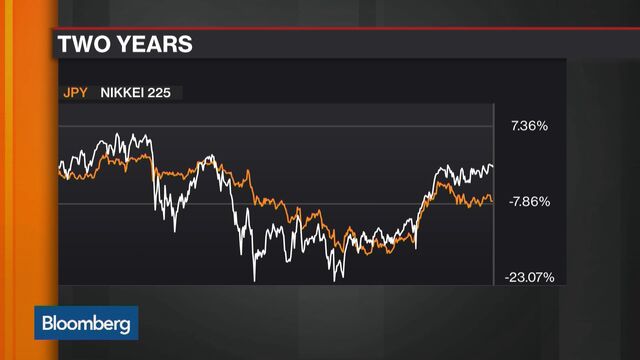 So goes dollar-yen, so goes Japan's stock market.
It's been an axiom for investors for years, and most of the time it works well. Because of the impact of the yen's value on Japanese manufacturers' profits, a weaker rate against the dollar would stoke the likes of Toyota Motor Corp., and vice versa.
A new narrative could be emerging. Some analysts are seeing enough improvement on Japan's domestic economic and corporate-governance front that the nation's equities could swing independently of the exchange rate -- as long as the yen's moves aren't drastic. While Abenomics has fallen short of its goals so far, underneath the headlines the Japanese economy is steadily expanding and reforms are gaining attention.
"Many market observers believe there is limited upside for Japanese equities unless the yen weakens against the dollar -- but we see a growing possibility that equities will decouple from exchange rates," Chisato Haganuma, chief equity strategist at Mitsubishi UFJ Morgan Stanley Securities Co. Ltd., wrote in a note this week.

Some fund managers see companies increasingly returning cash to shareholders -- read about that here.
Japan is in "a transition phase" and domestic consumption -- which accounts for more than 55 percent of the country's gross domestic product -- has come to the party, said Kathy Matsui, Goldman Sachs Group Inc.'s chief Japan equity strategist in Tokyo. She cited steady gains in employment, which has climbed to the highest since the 1990s. "Now domestic demand sectors are starting to pull their weight alongside exports."
Matsui back in December anticipated less of a connection between Japanese shares and the yen. A gap can already be detected, with the yen and Topix index appreciating about 3 percent this year.
Some of the Japanese gains could be attributed to joining the global rally in equities that's accompanied diminished concerns about deflation. Another argument in Japan's favor would be that its stocks haven't become as expensive as some others in the rally.

Looking back, the yen and Japanese shares decoupled in the mid-to-late 1990s and early 2000s, when both strengthened in the aftermaths of the Asian financial crisis and bursting of the dot-com bubble. The coupling pattern began to take hold in 2005 as the yen became a popular funding currency for carry trades, Haganuma said.
Haganuma warns that investors still need to keep tabs on the yen, and any advance to 100 would force him into a rethink. For now, he sees the currency in a range, and says moves within 110 to 120 per dollar are "not so important" for Japanese equities. He sees stocks rising at least until mid-2017.
There are plenty of caveats on the domestic story -- Bank of Japan Governor Haruhiko Kuroda on Thursday stressed that risks are tilted to the downside for the nation's growth. Yet continued gains in lending and a halt in the stop-and-go pattern for GDP in recent quarters offers some hope.
Matsui has year-end targets for the Topix at 1,660 and Nikkei at 21,000, against their current levels of 1,566 and 19,520.
"If these green shoots continue to expand or progress, then our thesis that the market can rally despite the yen being flat and maybe even appreciating could actually materialize and surprise people," she said.
Before it's here, it's on the Bloomberg Terminal.
LEARN MORE