business
Brexit Bulletin: Hitting Reverse
Budget U-turn reveals May's vulnerabilities and EU negotiators will have noticed.
By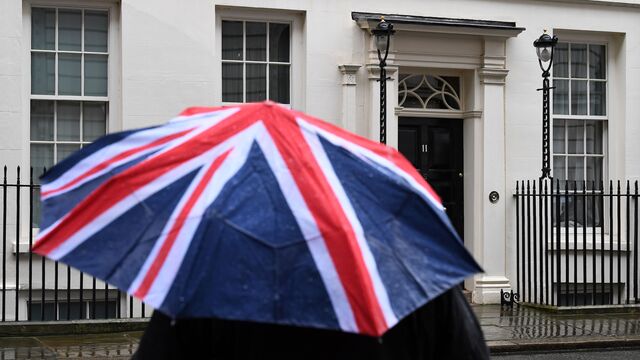 Sign up to receive the Brexit Bulletin in your inbox, and follow @Brexit on Twitter.
Just eight days ago, Chancellor of the Exchequer Philip Hammond felt so secure in his job he could afford to make a joke about a predecessor being sacked. 
"So wish me luck today," he cracked to lawmakers as he delivered his first budget. 
Hammond wasn't laughing on Wednesday as he and Prime Minister Theresa May were forced by critics within their own Conservative Party to dump the centerpiece of that budget, a tax hike on self-employed workers that breached a 2015 manifesto commitment.



The episode has implications for Brexit, as Tim Ross and Svenja O'Donnell report.
Firstly, it raises questions over the competence of the government as it prepares to engage with the European Union. If it can mess up a budget, what about two years of complex negotiations?
Secondly, it reveals vulnerabilities for May that the 27 EU governments could exploit to gain the upper hand. The fiasco suggests she lacks political nous and that when under pressure she's willing to hit reverse. Brexit fans on her own side also will take note as they try to keep her on track for a clean break with the bloc.
Finally, Tim and Svenja cite a senior government official saying the episode was an embarrassment for Hammond, revealing divisions within the government and tensions between May's allies and the Treasury. By hurting Hammond it risks reducing the influence in the Cabinet of the biggest advocate for business and against a hard Brexit.
 "It's going to get very hard," said Rob Ford, professor of politics at Manchester University. "If you can't push through a minor change in National Insurance that annoys 'white van man,' then how are you going to push through a massive treaty reorganization? We're going to butt up against 27 governments that don't do what we want them to do."
Two bits of good news for May: The opposition Labour Party flubbed its chance to hold her to account and the Queen will on Thursday sign off on legislation allowing the prime minister to trigger the Brexit talks.
Deal or No Deal?
To Brexit Secretary David Davis, Britain crashing out of the EU without a deal to cushion the fall is not that "frightening." By contrast, European Council President Donald Tusk warns it would be "bad for everyone."
Speaking to lawmakers on Wednesday, Davis was asked about May's negotiating stance that "no deal is better than a bad deal." The theory goes that only if the U.K. is willing to leave the negotiating table without a pact can it avoid being punished by the EU.



Riling some parliamentarians was Davis's acknowledgement that the government hadn't made a full economic assessment of the hardest of Brexits, which would expose the U.K. to World Trade Organization tariffs.
But others have. A November paper by academics Martina Lawless and Edgar Morgenroth estimates those duties would amount to an average 45 percent on meat, 12 percent on clothes and 8 percent on vehicles. The National Institute of Social and Economic Research last year calculated such barriers would help slash trade with the EU by 30 percent.
Those estimates undermine Davis's arguments and boost the EU's leverage, with Tusk warning that Britain would suffer most from a divorce with no deal. Still, Davis said there were upsides to such a situation as Britain would be free to increase trade with faster growing parts of the world.
He also saw a "progressive warming" in the EU's attitude towards U.K. banks, even if he said they were likely to lose so-called passporting access to the bloc.
No Brexit III
Dutch voters backed pro-European parties and helped Prime Minister Mark Rutte's Liberals easily beat off an election challenge by the anti-Islam Freedom Party of Geert Wilders.
The vote may have drawn a line in the sand over the spread of populism ahead of elections in Germany and France. It also increases the chances May will face a more united group of leaders who want to protect the European project.
"What a celebration it was for democracy today," Rutte told supporters in The Hague. "After Brexit, after the U.S. elections, the Netherlands said stop to the wrong sort of populism."

Brexit Bullets
And Finally...
The Physiological Society is reporting that the vote for Brexit caused most stress to women, the young, better educated people, Scots and Londoners, according to the Independent. Respondents were asked to rank the most stressful events out of 10. Brexit was given a stress reading of 4.2, which is still way behind the death of a friend or relative at 9.4. 
For more on Brexit follow Bloomberg on Twitter, Facebook and Instagram, and see our full coverage at Bloomberg.com
Before it's here, it's on the Bloomberg Terminal.
LEARN MORE