BOE to Hold Low Rate as Brexit-Weary Pound Fuels Prices
By and
Bank of England will announce rate decision on Thursday

Sluggish wage growth, spending could outweigh inflation worry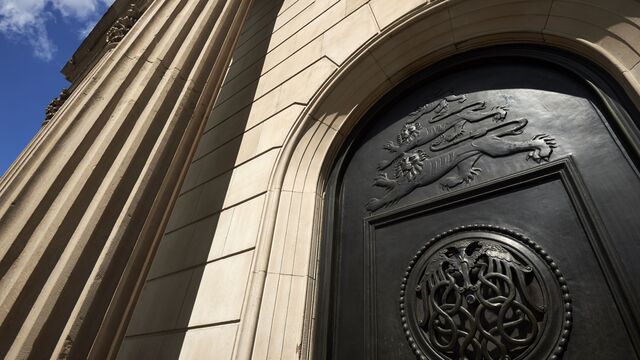 Faster inflation appears to be making a case for a rate hike at the Bank of England, but recent signs of a weakening economy and the looming Brexit negotiations mean officials aren't ready to go there yet.
The BOE announces its policy decision at noon in London, and economists predict the benchmark rate will stay at a record-low 0.25 percent. With the pound's 18 percent drop since the referendum fanning consumer prices and starting to squeeze households, officials will probably allow inflation to wander above target so as not to subdue growth. That contrasts with the U.S. Federal Reserve, which raised rates on Wednesday and signaled more to come as inflation gets close to its goal.
The U.K. economy has performed much better than many expected since the June vote to leave the European Union, and the BOE revised up its growth forecasts last month. But most of the inflation stems from the weak pound driving up import prices, rather than domestically-generated pressures like wage growth. Uncertainty is darkening the outlook for spending and investment as formal Brexit negotiations begin this month.
Inflation
The central bank sees inflation, at 1.8 percent in January, breaching its 2 percent target imminently and pushing close to 3 percent later in the year. At its last meeting, the rate-setting committee reiterated it would tolerate, within limits, a period of above-target inflation to safeguard jobs and growth. Since then, outspoken policy maker Kristin Forbes has said she's "beginning to grow uncomfortable" with that trade-off.

Wage Growth
Average earnings rose at the slowest pace in five months in January. Policy makers said in their last round of economic forecasts that there's more slack in the economy than they'd previously envisaged, meaning the unemployment rate can fall lower without propelling wage gains and inflation. That assessment seems to be holding up so far: the jobless rate hasn't been lower in four decades, yet pay growth is still sluggish.
British supermarket chain J Sainsbury Plc said Thursday that it's cutting costs in an effort to avoid raising prices in response to the drop in the pound. "We've done a lot to mitigate cost price pressures in our supply chain and we must keep doing everything we can to offer competitive prices," Chief Executive Officer Mike Coupe said.

Retail Sales
The wage-inflation combination means shoppers are starting to rein in their spending, which has been the main driver of U.K. economic growth since the financial crisis. Retail sales slipped for a third month in January after falling the most since 2011 in December, and consumer confidence also weakened.

Activity Slowing
According to IHS Markit's monthly surveys, U.K. growth will slow this quarter. While its 0.4 percent estimate is far from dire, that would be down from 0.7 percent at the end of 2016 and the weakest in a year.

Market Bets
All of this isn't enough to take the prospect of a rate hike entirely off the table. Investors see a 20 percent probability of an increase in 2017, and no possibility of a cut. With the latest round of bond-buying having concluded, the "door may now be open to the hawks," Deutsche Bank economists Mark Wall and Oliver Harvey said in a note. Still, the chances are lower than before the bank's inflation report in February, when there was nearly a 50 percent chance of an increase by the end of the year.