Bank of Japan on Hold Falls Further Behind Its Global Peers
By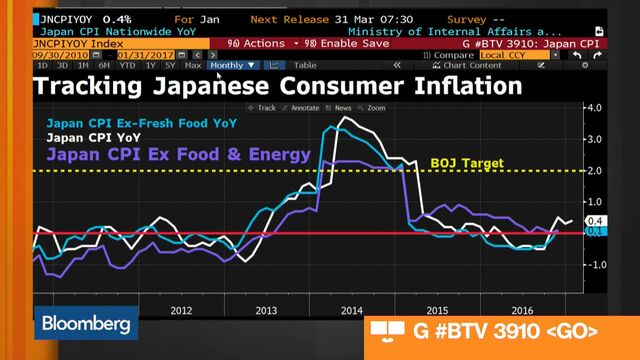 On cruise control, the Bank of Japan is looking like a laggard.
In the space of a day the Federal Reserve and China's central bank raised borrowing costs, while the BOJ stood pat. With its core inflation target just a distant goal, the Bank of Japan still has a long haul ahead despite four years of the world's most radical monetary policy.
Conditions around the world have helped the BOJ in recent months. The global "reflation trade," including expectations of monetary policy divergence, has weakened the yen and helped lift energy prices. Both show signs of supporting inflation in Japan.
Yet in its statement Thursday, the central bank lacked any bullishness on projections for reaching 2 percent inflation, which it sees arriving sometime in the fiscal year that starts in April 2018. It concedes that right now, inflation expectations are still weakening. 
Read more: BOJ Stays the Course, Leaves Policy Unchanged After Fed Hike
Governor Haruhiko Kuroda said in a news conference that momentum toward the price target still isn't strong enough, and that economic risks are skewed to the downside.
"The BOJ isn't confident the inflation rate is moving closer to the 2 percent target," said Yoshimasa Maruyama, chief market economist at SMBC Nikko Securities Inc. in Tokyo.
The BOJ noted that risks to its outlook include developments in the U.S. economy and the impact of the Fed's monetary policy on global markets. An unwinding of the reflation trade would undo much of the recent progress in Japan.
Inflation fueled by a weaker currency and higher oil prices can't be sustained indefinitely. For now inflation is close to zero, though some economists see it approaching 1 percent this year.
Despite record profits, some of Japan's biggest companies on Wednesday announced smaller annual wage increases for the next fiscal year. This continues to undermine efforts to spur consumer spending and a virtuous cycle for rising prices.
To be sure, Japan's economy is improving. The BOJ reiterated that it is on a moderate recovery trend, with global demand supporting exports and business investment picking up.
Read more: Japan Is Poised for Its Longest Run of GDP Growth in a Decade
This has relieved the central bank of the pressure to add stimulus. Few economists see it doing so before Kuroda's term ends in April 2018, particularly after it shifted its policy framework last year with a goal of sustainability. On Thursday, the BOJ said that it would keep its two key rates at current levels and maintain the pace of its asset purchases.
"There is no need for the BOJ to make a move now," Maruyama said, referring to additional stimulus. "The global economy is picking up and Japanese exports are rebounding, signaling Japan's economy is on the rise."
Click here to read Bloomberg Intelligence Economics' take on the BOJ
In fact, market speculation has turned to a BOJ rate increase. Not because of surging inflation, but rising U.S. yields.
The spread between U.S. and Japanese 10-year government bond yields this week reached the widest since 2010. Further increases in U.S. yields would likely put more upward pressure on those in Japan, which could force the BOJ to either increase bond purchases, conduct more fixed-rate buying operations or raise its target for the yield.
Eleven of 41 economists surveyed by Bloomberg said they expected the BOJ to raise its target rate this year, while 25 predicted the BOJ would cut the pace of its debt buying or stop stating its target for annual purchases.
Yet the BOJ's statement on Thursday indicated there is little chance of a rate increase this year, said Koichi Fujishiro, senior economist at Dai-ichi Life Research Institute.
"The BOJ is trying to make it crystal clear that they are easing when the Fed is going the other way to keep the yen weak," Fujishiro said.
BOJ officials are determined not to repeat the mistake of prematurely tightening, as happened in 2000 and 2006. Asked on Thursday about the potential for raising the yield target, Kuroda said: "There is still distance to the 2 percent inflation target, and to achieve it as soon as possible, it is appropriate to continue the powerful easing under the current framework."