Baidu Fires Head of Group-Buying Arm Over Ethics Violations
Bloomberg News
Company is now overhauling the loss-making Nuomi division

Nuomi lags rivals despite substantial investment from Baidu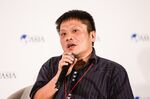 Baidu Inc. has fired Zeng Liang, head of its Nuomi group-buying division, citing violations of the search company's ethics.
Senior Vice President Xiang Hailong will become head of Nuomi, a loss-making business that sells discounted Groupon-like products and services, after Zeng's contract was terminated, Baidu said in an emailed statement Thursday. Zeng had admitted committing the violations and compensated the company for any losses as a result, Beijing-based Baidu said.
Zeng's alleged breaches are the latest piece of bad news for Nuomi, which has failed to gain traction against rivals despite substantial investments by its parent company. In 2015, Baidu Chief Executive Officer Robin Li pledged to invest 20 billion yuan ($2.9 billion) over three years into the division and other businesses that fulfill online orders with physical services. But Nuomi has a quarter of the market share held by chief rival Meituan Dianping, according a Feb. 24 note by Natalie Wu, a China International Capital Corp. analyst.
Zeng's dismissal comes as President Qi Lu overhauls the company's sprawling businesses, including folding autonomous car operations into its own division. The company is revamping Nuomi to further pool resources and strengthen customer service, it said. Baidu declined to make Zeng available for comment and said he'd already left the company. Messages sent by Bloomberg News to his LinkedIn account weren't answered.
On its fourth quarter earnings call, Baidu said its non-GAAP operating margins shrank in 2016 thanks to transaction services, which includes Nuomi. The company may now take the opportunity to completely overhaul the business.
"Some investors may look at this in a positive light because they may think Baidu hasn't been doing that well," said Marie Sun, an analyst with Morningstar Investment Services. "This kind of restructuring is a sign they're actively trying to get it onto the right track."
"For Baidu's O2O business, investors are hoping it won't spend as much as before," she added.
Indeed, the company reported expenses for the fourth quarter of 2016 fell by 26.4 percent, thanks mainly to a decreased promotional spending in transaction services.
The search giant wouldn't specify Zeng's alleged breaches except to say they involved his profiting from under-the-table transactions with representatives that deal with major clients. The violations took place when he was in charge of such key accounts, the company said.
Zeng was cited as the head of Nuomi as recently as September 2016 by local media outlets, when he denied persistent rumors that the business was merging with Meituan Dianping. In 2015, he was one of several directors appointed to the board of Qunar.com, an online travel agent backed by Baidu, and previously worked for Microsoft Corp. in China.