Aussie Jobless Rate Unexpectedly Jumps to 5.9%; Currency Drops
By
Unemployment rate climbs to highest since January last year

Economy sheds 6,400 roles versus estimated 16,000 gain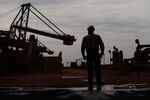 Australian unemployment unexpectedly climbed in February as the economy shed jobs, indicating spare capacity remains a problem in the labor market and wages and inflation are likely to remain subdued.
Key Points
Employment fell 6,400 from January; economists forecast 16,000 gain
Jobless rate rose from 5.7% to 5.9%, the highest level since January 2016; economists forecast 5.7%
Full-time jobs rose by 27,100; part-time employment dropped 33,500
Participation rate held at 64.6%, as economists predicted
Aussie dollar fell to 76.93 U.S. cents at 12:42 p.m. in Sydney, compared with 77.14 cents before the report
Big Picture
Australia's labor market is showing mixed signals following lackluster hiring last year, when full-time jobs virtually stagnated as gains were primarily part-time; unemployment only held below 6 percent due to discouraged job-seekers giving up the hunt. The central bank cites forward indicators suggesting the labor market will strengthen and GDP growth is forecast to pick up to an annual 3 percent later this year.
The economy is divided: on the east coast property prices are booming, spurring housing construction and attracting people from other states, while local governments are investing in infrastructure. In the west and north where a mining investment boom is unwinding, property prices are falling, businesses are going bust and people are leaving. Internal migration is the main factor containing unemployment in Western Australia and Queensland.
Economist Takeaways
"If the unemployment rate were to rise sharply this could be enough to prompt a further rate cut by the RBA, particularly if concerns about financial stability ease," said Kate Hickie, an assistant economist at Capital Economics. "In fact, the RBA has signaled that it is closely watching developments in the labor market and Governor Lowe has previously mentioned that a deterioration in the labor market could prompt a further rate cut."
"It would be easier to accept the latest jobs data if it lined up with other evidence. But it doesn't," said Craig James, a senior economist at the securities unit of Commonwealth Bank of Australia. "Interest rates are set to remain on hold for an extended period. There is nothing in the latest data to advance the case for rate hikes or rate cuts."
The result "confirms that the labor market, as reported by the labor force survey, is on a much softer-than-expected trend," said Justin Smirk, a senior economist at Westpac Banking Corp. "We would rather not make too much of the extreme switching between full-time and part-time you can get from month to month. Instead, we highlight the 1.2 percent monthly decline in hours worked to argue this is a soft update."
Other Details
The quarterly underutilization rate climbed to 14.6 percent, the highest level since February 2015
Monthly hours worked in all jobs fell by 20.5 million to 1,661.9 million hours
Before it's here, it's on the Bloomberg Terminal.
LEARN MORE