Turkey Posts Worst Budget, Jobless Numbers Since 2009 Crisis
By and
February budget gap was 6.8b liras; expenditures up 27%

Youth unemployment hits 24% in December, from 19.2% a year ago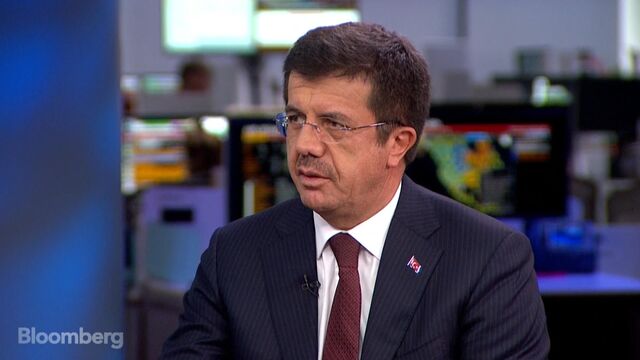 Turkey posted some of its worst budget and unemployment data since 2009, when the impact of the global financial crisis was at its peak.
The central government ran a budget deficit of 6.8 billion liras ($1.8 billion) in February, the biggest shortfall for the month in eight years, the Finance Ministry said on Wednesday. Youth joblessness surged to 24 percent in December, Turkey's state statistics institute said in a labor report, the highest level since April 2009.
Higher unemployment is the latest sign that Turkey's economy is struggling to recover from last year's failed coup, which led to a contraction in the third quarter. The government is increasing spending and rolling out tax breaks and other incentives to spur growth ahead of an April 16 referendum on constitutional changes that would transfer sweeping powers to the presidency.
Below are the key highlights of the data.
Budget
Central government budget gap was 6.8 billion liras in February, compared with a surplus of 2.4 billion liras a year earlier
Deficit excluding interest payments was 1.8 billion liras, from a 6.5 billion liras surplus in February 2016
Budget expenditures rose 27 percent to 53.7 billion liras 
Revenue grew by 4.9 percent to 46.9 billion liras. February revenue accounted for 7.8 percent of the total budgeted for the year, compared with 8.1 percent in 2016
Value-added tax collected domestically -- a key gauge of consumption -- shrank 3.2 percent to 3.4 billion liras
Unemployment
December youth jobless rate was 24 percent, compared with 22.6 percent in November and 19.2 percent a year earlier

General unemployment rose to 12.7 percent, the highest since March 2010, from 12.1 percent in November and 10.8 percent in December 2015

Participation in the labor force fell to 51.6 percent from 52.1 percent in November
The non-agricultural unemployment rate was 14.9 percent, compared with 14.3 percent in November and 12.8 percent a year earlier
Broad-based decline in overall number of employed, led by agriculture, industry and construction. Services was the only sector that created jobs
Highest jump in unemployment was among university and high school graduates
Before it's here, it's on the Bloomberg Terminal.
LEARN MORE