politics
Trump-Putin Meeting in Slovenia? 'It's Possible,' Minister Says
By
Trump's desire for better ties hits stumbling block in U.S.

Erjavec says Russian sanctions show 'no concrete results'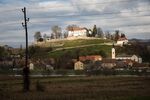 Slovenia, the birthplace of U.S. First Lady Melania Trump, is seeking to host the inaugural meeting between her president husband and his Russian counterpart, the European Union member's top diplomat said.
Slovenia first raised the possibility of a meeting between Donald Trump and Vladimir Putin last month during a visit to Moscow, when Putin said "he has fond memories" of holding his first talks with now-ex U.S. President George W. Bush in the Alpine country of 2 million people, Slovene Foreign Minister Karl Erjavec said in an interview. Melania Trump's connection may tip the scales in the country's favor.
"It's possible," Erjavec said in his office in the capital, Ljubljana, on Tuesday. "There are no objections to this from the American or the Russian side."

The U.S. president heaped praise on Putin during his campaign, pledging to repair frayed ties with the Kremlin and suggesting that he might make his first trip to meet the Russian leader, an idea he characterized as "wonderful." Following revelations of Russia's alleged interference in the U.S. election and ties between Trump's campaign team and Russian officials he has been more subdued, completely omitting reference to the U.S.'s Cold War rival from his first address to Congress this month. Russia has warned that efforts toward rapprochement are now at risk.  
The two leaders may meet in July at the G-20 summit in Hamburg, Germany, "if there is no agreement" on earlier talks, Kremlin spokesman Dmitry Peskov told CNN March 12.
Melania Connection
Bush and Putin chose Slovenia for their first meeting in 2001, holding talks at the Brdo resort near Ljubljana that once belonged to communist-era Yugoslav leader Josip Broz Tito. If a meeting between Trump and Putin does take place, it would provide a boost to a country that is seeing an increase in tourist arrivals from the U.S. because of its ties to the first lady, Erjavec said.
"When I hold talks with people from the U.S. administration, the first lady is often mentioned," Erjavec said. "This is surely a benefit for Slovenia."
While Slovenia has since joined NATO -- as well as the euro area -- it has differed from some of its peers in the military alliance by criticizing U.S. and EU sanctions against Russia imposed over its 2014 annexation of Crimea and support for rebels in eastern Ukraine. The bloc rolled over the asset freezes, visa bans and measures against specific Russian industries in December until July 31, potentially for the last time.
"Slovenia is respecting the economic sanctions toward Russia because we are an EU member," Erjavec said. But he added: "There are no concrete results from the sanctions."
Before it's here, it's on the Bloomberg Terminal.
LEARN MORE