Tepper's Betting Both Sides of the French Election
By
Knighthead, Caspian join Tepper in bond wager on French vote

Paul Tudor Jones's biggest concern is instability in Italy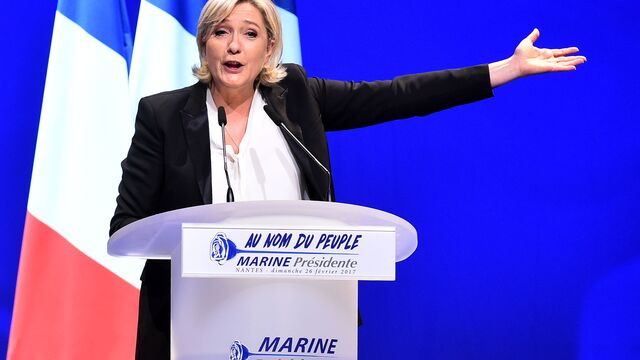 David Tepper is betting he can make money on the upcoming French election, no matter the outcome.
The billionaire hedge fund manager said last week that he's snapping up European equities because they're cheap as the market overplays the risk that nationalist Marine Le Pen will win. When it comes to French bonds, he's taking the opposite position, believing investors are underestimating the chance of a Le Pen victory, according to people familiar with the matter.

Tepper, founder of Appaloosa Management, as well as Knighthead Capital Management and Caspian Capital Management, are wagering France's borrowing costs will rise relative to those of Germany during the run-up to the French election, which begins in April, according to other people with knowledge of the matter. The short bet on French bonds would also benefit from a pick-up in inflation and, eventually, interest rates in the euro area.
The trade, which Tepper and his peers put on last year, has started to pay off as polls show growing support for Le Pen, who advocates that France leave the euro. The extra yield investors demand to own France's 10-year debt over German bunds has doubled since the end of October to 63 basis points, or 0.63 percentage point. Tepper thinks French bonds should yield as much as 1.2 percent compared with 1.08 percent on Thursday, the people said.
Representatives for the firms declined to comment.
"People are so nervous about this French election affecting markets," Tepper, who oversees about $17 billion, said in a March 8 interview with CNBC. "If I knew the French election was going to go the right way, 100 percent, I'd be much longer Europe, but there's a downside there," he said of his bet on European equities.
Despite the electoral defeat of Dutch nationalist Geert Wilders on Wednesday, dealing a blow to the spread of European populism, French bonds slid Thursday, erasing an earlier rally. Voters came out in force to back the Liberal Party over the Wilders' anti-Islam Freedom Party. Still, investors remain apprehensive over the election risks in France, traders said.
Le Pen is roughly tied in polls with independent Emmanuel Macron for the first round lead. Ifop's latest daily rolling poll gives Le Pen 26.5 percent support and Macron 25.5 percent. Macron leads Le Pen by 23 points in the runoff in May.
ECB Tightening
The trio of firms as well as other marquee money managers are also poised to benefit from a change in the European Central Bank's dovish stance as euro-area economic data improves. Last week, Bloomberg reported that ECB policy makers, in an exchange of views on communicating policy normalization, also considered whether interest rates could rise before finishing their 2.28 trillion-euro ($2.4 trillion) bond-buying program.
"We think the ECB may be forced to reconsider its stance," billionaire hedge fund manager Paul Tudor Jones wrote in a Feb. 2 letter to clients obtained by Bloomberg. In it he said he's bearish global fixed income. Jones sees the possibility of higher yields in longer-duration German instruments, robust Euro Stoxx earnings and a stronger euro versus yen.
Tudor wrote that his biggest concern is Italy, "where we worry about the return of political instability, the weak banking sector and the challenge to fiscal sustainability at higher yields."
Hugh Hendry, the hedge fund manager known for his bearish bank bets during the financial crisis, also sees the unwinding of the ECB's bond-buying program playing out with a jolt to Italian yields. His firm, Eclectica Asset Management, has built a "substantial position" on Italy's 10-year bond yields widening over Germany's. 
If Le Pen wins, it'd make for a fine payday as "markets would need to grapple with the real threat of a euro break up," Hendry told investors in a letter this month. Before Italy adopted the euro in 2002, its borrowing costs -- which now average 1.6 percent -- were regularly above 10 percent, he noted.
"We think there is a significant probability of such a political upset," he wrote. "Our gains could be considerable."
Before it's here, it's on the Bloomberg Terminal.
LEARN MORE