Schumer Likely to Oppose Gorsuch Confirmation as Hearing Nears
By
Supreme Court nominee criticized as friend to corporations

Democrat says any Republican bid to end filibuster will fail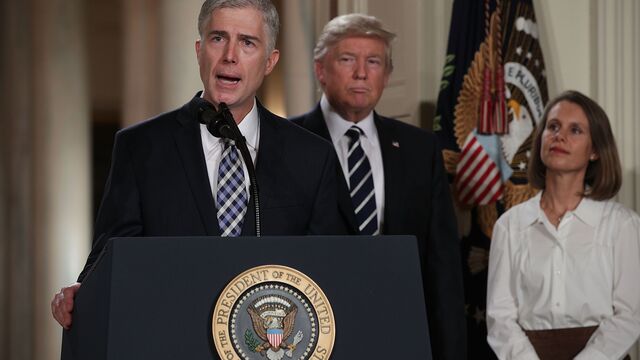 Senate Minority Leader Chuck Schumer said he almost certainly will oppose Judge Neil Gorsuch's U.S. Supreme Court nomination and urge other Democrats to do so, though he'll make a final decision after next week's confirmation hearing.
"I have a strong presumption against," Schumer said at a news conference Wednesday, where he was flanked by people who said Gorsuch's rulings in their lawsuits against employers and a drugmaker showed bias against working-class people.
Other Democrats on the Senate Judiciary Committee also are ramping up criticism of Gorsuch before the panel begins his confirmation hearing March 20. The bitterly divided Senate will weigh President Donald Trump's choice to replace the late Justice Antonin Scalia, with frustrated Democrats vowing a tough review of Gorsuch's record and demanding proof he won't swing the court to a 5-4 majority that rules for corporations over ordinary Americans.
Senator Sheldon Whitehouse of Rhode Island, a Democrat on the Judiciary panel, told reporters a day earlier that Gorsuch must meet that bar and also face down Democrats' resentment over the 11-month Republican blockade last year of Judge Merrick Garland, former President Barack Obama's pick to fill the vacancy.
"He does not come into this with the benefit of the doubt in his favor," said Whitehouse. Democrats must see that he is "a true judicial conservative and not a political conservative," the senator said.
Ending the Filibuster
Democrats may have enough votes to block Gorsuch because the 52 Republicans are eight votes short of the 60 needed to advance his nomination in the 100-member chamber -- unless Republicans take the politically explosive step of unilaterally changing Senate rules to require a simple majority. At the same time, it would be extraordinary for Democrats to reject a Supreme Court nominee so early in a presidency, barring unexpected revelations about his record.
Schumer said he's confident that Majority Leader Mitch McConnell will fail if he tries to use the "nuclear option" and change Senate rules to eliminate the filibuster for Supreme Court confirmations. That would require 51 senators to go along with a rules change, and Schumer said he doesn't think McConnell has enough support.
"There are a good number of our Republicans who don't want to change the rules," he said.
Schumer contended Gorsuch's record shows strong bias in favor of corporations.
"Judge Gorsuch may act like a neutral, calm judge," Schumer said at the news conference. "But his record and his career clearly show he harbors a right-wing, pro-corporate, special-interest agenda."
Women, Workers
Senator Richard Blumenthal of Connecticut, another Judiciary committee Democrat, said questions for Gorsuch will center on privacy rights, access to women's health care, worker protections and judicial independence from the executive branch.
Republicans are working to bolster Gorsuch. McConnell and Senate Republican Whip John Cornyn spoke in his favor on the Senate floor Wednesday morning. Cornyn reminded lawmakers that the Senate confirmed Gorsuch unanimously in 2006 to join the 10th U.S. Circuit Court of Appeals.
"He's served with great distinction on the 10th Circuit Court of Appeals based out of Denver for the last 10 years," Cornyn said. "Clearly, Judge Gorsuch has won the respect of those across the political spectrum and on both sides of the aisle."
Gorsuch has met individually with more than 70 senators in recent weeks. The final Senate vote will likely hinge on 10 Democratic senators who face re-election next year in states Trump won in November. Democrats including Joe Manchin of West Virginia and Jon Tester of Montana have said they are undecided on the confirmation. The lawmakers are the targets of intense lobbying by groups on both sides on the issue.
Before it's here, it's on the Bloomberg Terminal.
LEARN MORE