business
Palace Deaths Don't Need an Independent Probe, Uganda Says
By
Police, army stormed tribal king's residence in November

Government responds to rights group report alleging 155 deaths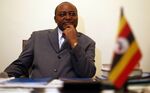 Uganda rejected Human Rights Watch's call for an independent investigation into November clashes between loyalists of a tribal king and security forces in which more than 100 people were killed.
Such a probe is "untenable for now" because people linked to the violence that took place in Kasese, western Uganda, are currently facing court proceedings, government spokesman Ofwono Opondo said Wednesday in an emailed statment.
The New York-based advocacy group said more than 155 people, including at least 14 police, were killed during military and police operations on Nov. 26 and Nov. 27. On the second day, at least 15 children died when Ugandan forces stormed the palace of King Charles Wesley Mumbere, the leader of the Rwenzururu kingdom, HRW said in a statement. Opondo disputed the toll and said there were no child fatalities.
The king and more than 180 people have been arrested and are facing charges including murder, terrorism and treason, according to HRW. The government has said Mumbere was leading a cessation movement and his guards had attacked police stations. Opondo said authorities recorded a total of 103 deaths, including 16 police. No one has been charged for killing civilians, HRW said.
The government rejected the rights group's call to suspend commanding army and police officials. The focus has been on "pursuing criminal investigation, bringing suspects to prosecution and restore order, which is being achieved," Opondo said.
Before it's here, it's on the Bloomberg Terminal.
LEARN MORE