Trump Says He Based Charge of Obama Wiretapping on Media Reports
By , , and
Trump says administration preparing 'good stuff' to validate

FBI chief met with Grassley, Feinstein for a closed briefing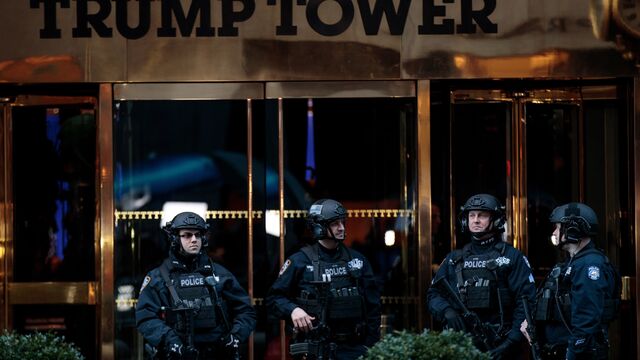 President Donald Trump said Wednesday that he based claims that former President Barack Obama had wiretapped Trump Tower at least partially on media reports, and remained confident that information emerging in the coming weeks would vindicate his so-far unsubstantiated charge.
The president said in an interview with Fox News that he would submit some "very good stuff" to validate his claims and that he would consider speaking more fully about the allegations as soon as next week. Trump did not specify if he intended to present the evidence to Congress, the public, or some other entity.
"Let's see whether or not I prove it," Trump said. "I just don't choose to do it right now."
Trump, speaking at length about the controversy for the first time, said his tweet alleging the former president was spying on him was based at least partially on reporting by the New York Times and Fox News. 
He pointed specifically to a Times story from January, which reported that U.S. law enforcement and intelligence agencies were examining intercepted communications and financial transactions as part of a broad investigation into links between the Russian government and Trump officials. But the story said it wasn't clear the intercepted communications had anything to do with Trump or his campaign.
Trump also said he had seen a mention of wiretapping during a segment of the Fox News show Special Report with Bret Baier, but didn't specify what report he was specifically referring to.

He also said that although he tweeted specifically that Obama had tapped his phone, he intended generally to allege that the prior administration had undertaken "surveillance and many other things."
Meeting Senators
The comments came the same day that FBI Director James Comey met with senators Wednesday amid demands for him to answer whether Trump's claims were correct.
Senate Judiciary Chairman Chuck Grassley, a Republican from Iowa, and Senator Dianne Feinstein of California, the panel's top Democrat, declined to disclose details of the meeting to reporters after the closed-door briefing.
"The chairman and I had written a letter asking for a briefing on certain topics which I'm not going to go into, and because of the strength of the chairman's, um, tough language, we were able to have a briefing," Feinstein told reporters later. "This briefing was all on sensitive matters and highly classified and it's really not anything we can answer any questions about."
Lawmakers have been increasingly vocal in demanding that Comey answer questions about Trump's wiretap assertion and also about the Federal Bureau of Investigation's probe into Russian hacking of Democrats' emails during last year's presidential campaign. U.S. intelligence agencies, including the FBI, have found Russia's meddling was intended to hurt Democrat Hillary Clinton and ultimately to help Trump win.
Comey to Testify
Comey will testify in public on March 20 before the House Intelligence Committee, according to the FBI. Other senators have been demanding he respond as well, including Republican Lindsey Graham of South Carolina, who threatened Wednesday to issue a subpoena in the matter.
Questions about possible ties between Trump's campaign and associates of Russian President Vladimir Putin have transfixed Congress, where Wednesday alone featured separate hearings on the efficacy of Russian sanctions lodged since 2014 and Graham presided over a hearing focusing on that country's attempts to disrupt European elections.
The Republican chairman of the House Intelligence Committee said his panel hasn't found evidence so far to back up Trump's initial wiretap allegation.
"We don't have any evidence that took place," Chairman Devin Nunes of California said at a news conference Wednesday in Washington. "I don't think there was an actual tap of Trump Tower."
The Intelligence Committee's top Democrat, Adam Schiff of California, said at the news conference, "to date I see no evidence" that supports the claim by Trump. "I think to put that forth was irresponsible by the president and his spokesman," Schiff said.
Sessions's Comment
Attorney General Jeff Sessions was asked by reporters after a speech in Richmond, Virginia, Wednesday if he ever briefed Trump on investigations related to the campaigns or gave him any reason to believe he was wiretapped by the previous administration. Sessions replied, "The answer: No."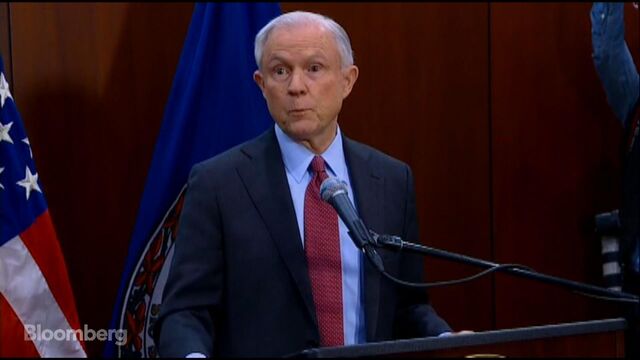 Nunes and Schiff also said the Intelligence Committee has asked the FBI, CIA and the National Security Agency to turn over the names of any U.S. citizens who may have been ensnared by surveillance eavesdropping and then had their names leaked.
Nunes said the request was made because of concerns over the legality of the U.S. intelligence community's interception and use of communications involving General Michael Flynn, who was Trump's initial national security adviser.
Flynn resigned Feb. 13 after revelations that he didn't disclose that he had discussed sanctions against Russia with the country's ambassador to the U.S. before Trump took office. Nunes has questioned why intelligence officials eavesdropped on Flynn's calls with the ambassador and later leaked information on those calls to the press.
Intelligence agencies are known to listen in on communications by ambassadors, but the contents of those calls aren't normally disclosed.
Nunes and Schiff wrote to NSA Director Michael Rogers, Comey and CIA director Mike Pompeo asking them to provide the names of "unmasked" American citizens caught in surveillance over the last six months.
— With assistance by Nafeesa Syeed, and Justin Sink
Before it's here, it's on the Bloomberg Terminal.
LEARN MORE