business
Why Elon Musk's Energy Storage Fix for Australia Won't Be Enough
By
Total battery storage system could cost $422 a kilowatt hour

South Australia at center of spat over energy security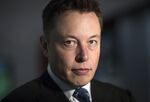 A single energy storage project like the one proposed by billionaire Elon Musk to resolve power woes plaguing the state of South Australia won't be enough to safeguard the market completely and could prove more costly than initially suggested, according to estimates by Bloomberg New Energy Finance.
In a series of Twitter exchanges with Australian tech billionaire Mike Cannon-Brookes, Musk has said he can solve a looming energy crisis in South Australia by installing a battery system within 100 days or it's free. In one tweet, which was short on details, Musk said Tesla Inc. could supply battery packs at a price of $250 per kilowatt hour.
London-based researcher BNEF estimates the total system cost is more likely to be $422 per kilowatt hour. Construction costs would boost the total cost, while the battery pack would be just one component of an energy storage system that would need to include other components such as a power control system and energy management system, BNEF said in a research report.
The plan to build a 100-megawatt project with 400 megawatt-hours of energy storage capacity won't solve the energy crisis in South Australia on its own because more than 600 megawatts is needed, said BNEF.
"The addition of 100 megawatts of instantaneous power will certainly contribute to alleviating the local power shortfall in South Australia and add fast response capability, but it will probably not add enough resilience to prevent further blackouts by itself," according to the report.
South Australia is at the center of a political spat over energy security in Australia -- a nation that is still wedded to coal for much of its power. South Australia, the mainland state most reliant on renewable energy, has suffered a series of blackouts in recent months.
Prime Minister Malcolm Turnbull's conservative-leaning coalition has blamed the power cuts on the Labor government's rapid take-up of renewable power.
Before it's here, it's on the Bloomberg Terminal.
LEARN MORE