May Shows Weak Hand in Run-Up to Brexit With Tax Hike Retraction
By and
Budget fiasco and Scottish referendum expose vulnerabilities

Timing of tax fumble comes as May gets ready to trigger Brexit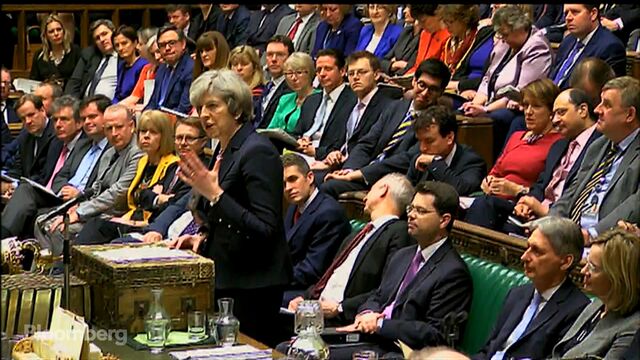 U.K. Prime Minister Theresa May's vulnerabilities were laid bare this week and it couldn't have come at a better time for the 27 European governments seeking the upper hand in upcoming Brexit negotiations.
The decision on Wednesday to dump a controversial tax hike after seven days of criticism from within her own Conservative Party led to accusations she lacks political nous and is too willing to hit reverse when pushed. Her credibility was further tested by a fresh push for Scottish independence.
Such flaws risk being seized upon by her European Union counterparts as they and May prepare for complex negotiations that could end with the U.K. leaving the bloc empty-handed in two years. For May, success will depend on her ability to convey strength of character while generating goodwill.
Follow @Brexit for all the latest news, and sign up to our daily Brexit Bulletin newsletter.
"It's going to get very hard," said Rob Ford, professor of politics at Manchester University. "If you can't push through a minor change in National Insurance that annoys white van man, then how are you going to push through a massive treaty reorganization? We're going to butt up against 27 governments that don't do what we want them to do."
EU diplomats eyeing weaknesses to exploit can look to how politics in the U.K. are playing out and the circumstances in which May has capitulated and how she handled it. A revealing example came as May took questions from lawmakers in Parliament.
Cut Losses
Less than 30 minutes before she stood up in the House of Commons, one of her most senior ministers, Chancellor of the Exchequer Philip Hammond was forced into a U-turn over his proposed increase of taxes on the self-employed. It was a measure May had publicly defended until she realized a rebellion was brewing within her own ranks.
But since the measure was unveiled a week ago, it became increasingly apparent to May that her government, which only has a slender majority of 17, may lose the budget vote in the House of Commons. A final decision to do away with the tax hike was made at an 8 a.m. meeting between May and Hammond.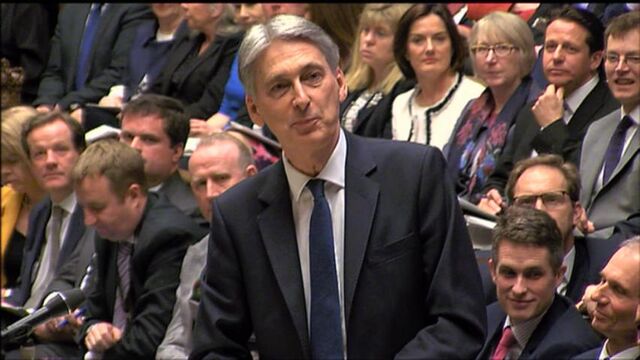 While May's spokesman, James Slack, insists Hammond still enjoys the prime minister's "full confidence," the incident revealed a degree of clumsiness that May was able to paper over in large part because the main opposition missed a chance to grill her.
The clash among Conservatives comes at a critical time, just as May seeks to show British unity and exploit divisions within the other EU member states.
Tensions Exposed
A senior government official loyal to the premier said the episode was an embarrassment for Hammond, revealing divisions within the government and tensions between May's allies and the Treasury. By undermining Hammond, the reversal may also reduce the influence in Cabinet of the main advocate for businesses and against a hard Brexit.
By the end of this month May will have invoked Article 50 of the Lisbon Treaty, the formal mechanism to quit the EU, and the last few weeks are proof to her adversaries not only that she can make concessions, but miscalculations too.
In the case of the budget fiasco, the mistake was in underestimating how strongly fellow Tories felt about a manifesto pledge. For Andrew Bridgen, a Tory member of Parliament, the tax increase was a breach of trust and she did well to retreat quickly.
"There is never a wrong time to do the right thing," he said in an interview.
— With assistance by Thomas Penny
Before it's here, it's on the Bloomberg Terminal.
LEARN MORE