'We Don't Want to See a Trade War,' Chinese Premier Li Says of U.S.
Bloomberg News
'We don't want to see a trade war,' Chinese Premier Li says

China is embracing free trade to push back on protectionism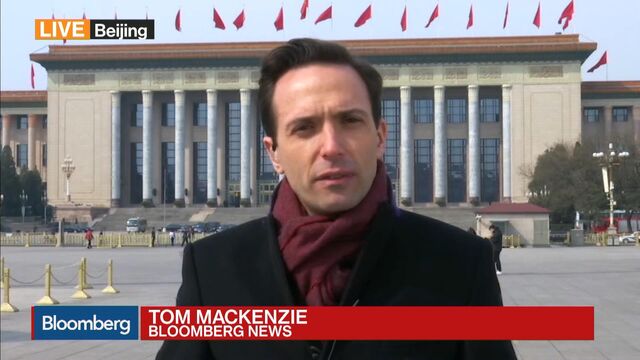 Premier Li Keqiang struck an optimistic tone on China's relations with the U.S. and sought to ease concern over financial risks in his most high-profile public appearance of the year.
The world's biggest economies share extensive common interests on jobs, foreign exchange and security, Li said Wednesday at a press conference after the close of the annual National People's Congress. He added that diplomats are discussing a potential meeting between leaders Xi Jinping and Donald Trump, confirming reports earlier this week.
"We don't want to see a trade war," Li said, adding that Chinese bilateral trade and investment created nearly 1 million jobs in the U.S. last year. Trump and Xi are weighing a meeting in Florida in April, with the goal of reducing tensions over North Korea, people familiar with the matter told Bloomberg News this week.

Li used his annual briefing at the close of the NPC to endorse Xi's status as the Communist Party's "core" before a twice-a-decade leadership reshuffle later this year. He fielded questions for more than two hours on topics from Taiwan to pollution before a group of about 1,000 journalists gathered at the Great Hall of the People on Beijing's Tiananmen Square.
China has championed free trade and globalization, and is ready to work with other nations to improve its international governance, Li said. The comments echoed those from Xi at the World Economic Forum in Davos in January, when he preached "openness" and economic liberalization to global elites.
Read More: Xi Takes on Trump in Rebuttal Against Protectionism
The labor market faces "relatively large" employment pressure this year with a record 7.95 million college graduates and another 5 million graduating from secondary vocational schools, Li said. With "several hundred thousand" workers losing jobs amid the drive to cut excess capacity, the government's job is to ensure ample opportunities and it won't allow massive unemployment in a particular group of people, Li said.
"Containing unemployment pressure is critical," said Raymond Yeung, chief greater China economist at Australia & New Zealand Banking Group Ltd. in Hong Kong. "The government doesn't want to see massive job losses due to a trade war. Premier Li's comment indicates that the government is highly vigilant to this external risk."
Yuan Depreciation
The yuan has depreciated as the dollar appreciated, and China doesn't want to reduce the value of its currency to promote exports, Li said. Foreign reserves are ample, and officials will guarantee the normal use of foreign currency by individuals and companies, Li said.
Li said domestic risks must be taken seriously, especially in the financial sector, and that authorities will take targeted measures to keep them from spreading. There are no systemic risks in the financial system and policy makers still have tools available if needed, he said.
China will fasten its "seat belt" and rein in risks as it pursues mid- to high- speed growth, Li said. While China is the engine for global economic growth, he said, it also faces significant external risks.
Outstanding credit at the end of 2016 was equal to about 258 percent of total economic output, up from 160 percent in 2008, according Bloomberg Intelligence estimates.

Not Slow
Li's report to the NPC set a 2017 growth target of "around 6.5 percent, or higher if possible" -- less ambitious than last year's 6.5 percent to 7 percent target range. Economic data Tuesday showed growth on a firm footing that gives policy makers more space to prioritize curbing excessive leverage and deflating asset bubbles.
A 6.5 percent expansion isn't low speed, and isn't easy to meet, Li said.
China's economic performance the past few years amid slowing global growth and trade should put to rest predictions of a hard landing, Li said. China has maintained steady growth without resorting to strong stimulus, and the economy will continue to enjoy medium to high growth, he said.
The central bank is seen moving toward a tightening bias by boosting money-market rates to contain company leverage. With the Federal Reserve poised to continue raising interest rates this year, keeping China's policy in line with the U.S. could help support the yuan and reduce capital outflow pressure.
Other Li comments included:
China will wage a war to ensure blue skies and take steps to address coal emissions
China supports a stable European Union and a strong euro
China opposes Taiwan independence and maintains that both belong to One China
China doesn't want to see a Cold War mindset in Asia-Pacific relations
ASEAN should hold a priority position in regional diplomacy
China hopes for peace and stability in the South China sea
Li, 61, replaced Wen Jiabao in 2013 as chief of China's cabinet, the State Council. With a master's degree in law and doctorate in economics, he's known for a command of English that gives him greater opportunity to interact freely with foreign leaders at global events.
(Corrects quote in web headline.)
— With assistance by Yinan Zhao, Miao Han, Kevin Hamlin, Keith Zhai, Peter Martin, and Xiaoqing Pi
Before it's here, it's on the Bloomberg Terminal.
LEARN MORE