Gundlach Says Bond Market Set to Rally as Fed Raises Rates
By
Inflation will slow later this year, driving up bond prices

DoubleLine CEO says Fed isn't behind the curve this time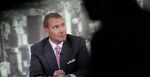 The bond market is poised for a short-term rally as the Federal Reserve enters a series of interest rate hikes that will moderate inflation, Jeffrey Gundlach, chief executive officer of Los Angeles-based DoubleLine Capital, said on CNBC.
"I think the bond market is set up for a rally coming up in the weeks ahead," Gundlach said.
The Fed may be returning to a series of "almost old school" rate hikes that will continue "until something breaks," Gundlach said on an investor webcast last week. The money manager, whose firm oversaw about $101 billion in assets as of Dec. 31, also said he doesn't foresee a U.S. recession in the near term.
The Fed is expected to raise rates today for the first time this year and only the third time in a decade. The central bank moves show that it isn't behind the curve in trying to control inflation, Gundlach said on Wednesday.
Yields on 10-year Treasuries rose in intraday trading after Gundlach's comments, which aired after 12:30 p.m. in New York.

Yields on 10-year Treasuries are likely to head back down as inflation moderates later this year, Gundlach said.
"With that movement, that supports a bond market rally," he said.
Watch Next: Bill Gross Says He Doesn't Like Bonds Right Now