Graft Charges Test Fillon's Campaign for French President
By and
Paris judges charged Fillon with embezzlement Tuesday

Republican candidate vowed to stay in race regardless of probe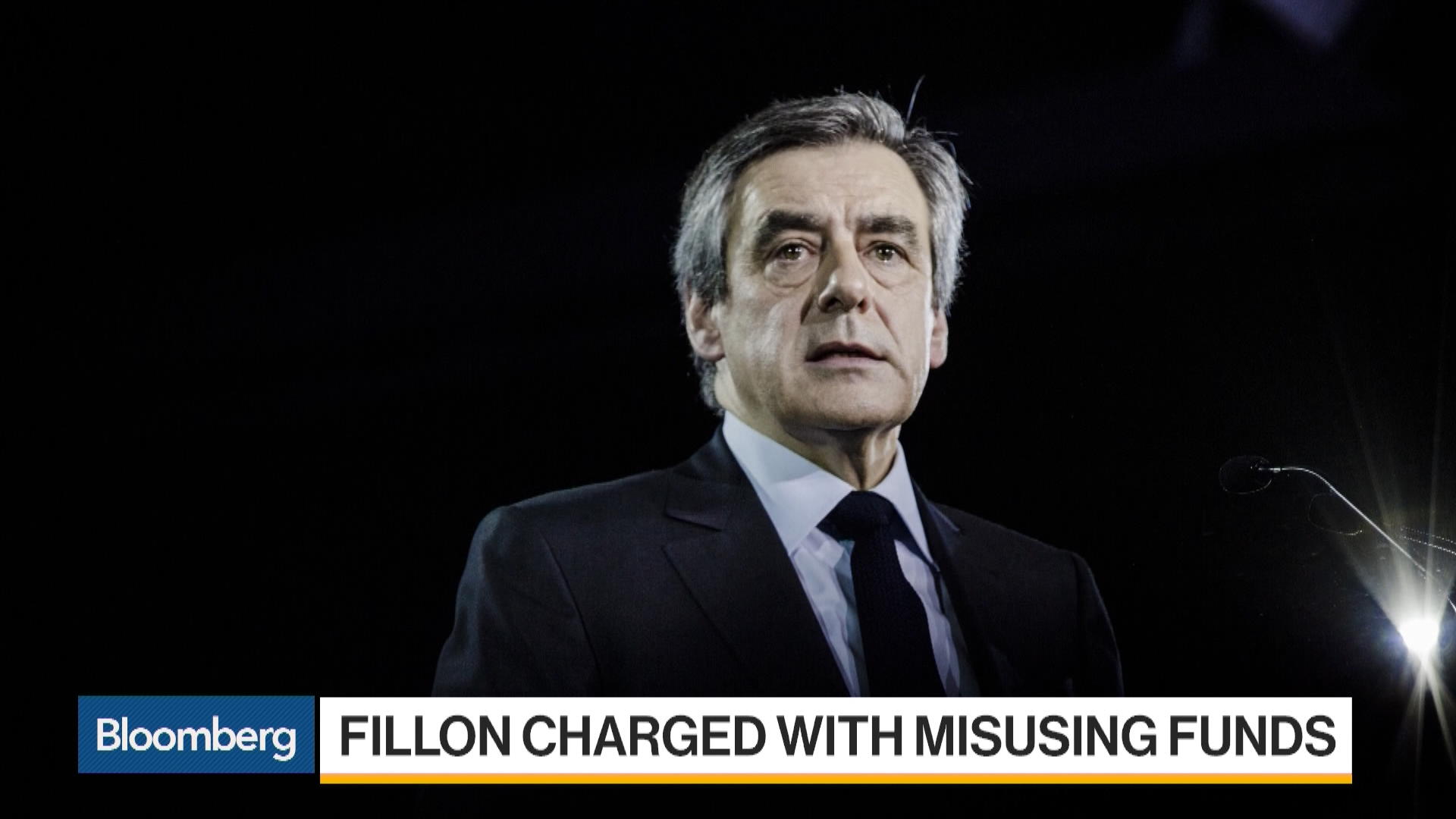 Francois Fillon told voters he's the victim of a plot, as pollsters assess how far his deepening legal problems have damaged his bid to be France's next president.
A day after being charged with embezzlement over his wife's allegedly fake job as a parliamentary aide, the 63-year-old former prime minister insisted on his innocence in a radio interview Wednesday and argued that the courts are being used by his political opponents in the run-up to the first round of voting on April 23.
"Justice is being manipulated against me to prevent me from running," Fillon told Radio Classique. "I am innocent."
The judges' decision confirms the worst-case scenario for Fillon, who's already promised to stay in the race whatever happens and faced down a rebellion of party officials seeking his ouster. So while the announcement will force him onto the back foot again, Bruno Jeanbart, deputy director of pollsters OpinionWay, said voters have probably already factored the charges into their thinking.
"The damage has already been done," Jeanbart said.
For a dashboard tracking European political risk, click here
OpinionWay's midday tracking poll, including data collected on the day Fillon was charged, showed the Republican slipping six points behind second-placed Emmanuel Macron in the first round leaving him facing elimination from the runoff on May 7. The independent Macron would beat anti-euro nationalist Marine Le Pen by more than 20 points in the final round, OpinionWay said. Ifop's release at 6 p.m. should also include responses collected today.

The Republican nominee said he had considered dropping out several times as revelations about his lifestyle and spending piled up, yet he said he didn't want to deprive right-wing voters of their representative. The deadline for registering an alternative candidate with election authorities is this Friday and party officials abandoned efforts to replace Fillon on the ticket last week.
Macron Meets Merkel
Fillon returns to the campaign trail with a rally on Wednesday evening in Pertuis, southern France, as Macron prepares for a meeting with Chancellor Angela Merkel in Berlin on Thursday. The German leader, who met Fillon in January, is bowing to political pragmatism, even though it means another snub to her center-right ally.
Le Pen, who also is facing probes into her team's alleged false job contracts and into her wealth, has put Fillon and Macron's lifestyle at the heart of her attacks. Macron, a former banker at Rothschild, is under scrutiny from national media about his income during that period.
"Their relationship with money, with the powers that have money, and the way they mix private and public interests should raise questions," Florian Philippot, a close aide to Le Pen, said on RTL radio Wednesday. "We must talk about the important matters, French people are expecting us to."
Debate Monday
Fillon started the year as favorite to be France's next president but stumbled in mid-January after Le Canard Enchaine newspaper reported that he had employed his wife for years as a parliamentary assistant and that she had done little real work for total pay of almost 1 million euros ($1.1 million). His children had also been paid for work they may not have done, the newspaper has said.
If Fillon was elected president in May, he would be protected by an immunity throughout the five-year term, though his wife Penelope would have no such protection if she was also charged.
The next major date in the campaign is likely to be a televised debate March 20. While generally considered a good debater, Fillon will have to square his calls for cutting government spending and tightening up France's welfare state with his own actions in putting his family on the public payroll.
"The debate could be decisive," Jeanbart said. "The viewership will be huge this year."

Before it's here, it's on the Bloomberg Terminal.
LEARN MORE