European Stocks Climb With Miners on Fed and Dutch Election Day
By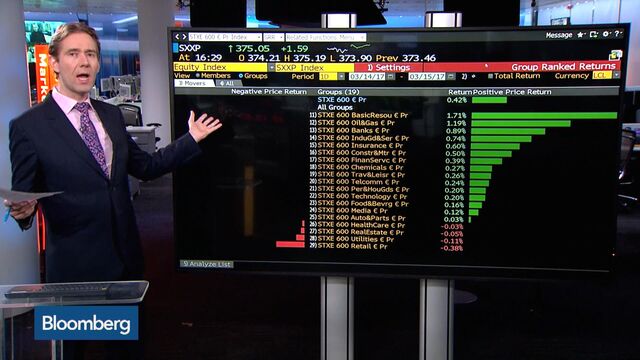 European stocks rose, lifted by gains in mining companies, as traders prepared for decisions by Federal Reserve officials and by Dutch voters that may give market signals for the region's interest rates and politics.
The Stoxx Europe 600 Index rose 0.4 percent at the close. Raw materials producers including Rio Tinto Plc and Glencore Plc led a rebound from the market's drop on Tuesday, when the European benchmark declined broadly. A gauge of insurance companies rose to the highest since January.

The valuation gap between U.S. and European stocks is beginning to narrow, though European shares are still cheaper based on profit multiples. Goldman Sachs Group Inc. and JPMorgan Asset Management have both said European stock returns may exceed those of U.S. peers in 2017.
The Stoxx 600's commodity-producer sector advanced 1.7 percent; Rio Tinto climbed 1 percent in a third day of gains.
The Federal Reserve will announce its rate decision at 6 p.m. London time; Fed-fund futures signal that traders see an interest-rate increase as almost certain.
The Dutch benchmark AEX Index rose 0.3 percent, as the nation's voters headed to the polls in a general election that's been widely seen as the next barometer of the spread of populism in Europe. Voting booths are open between 7:30 a.m. and 9 p.m. Amsterdam time, when an exit poll will be released.
Brent crude-oil futures climbed 1.4 percent, heading for the first increase in seven trading sessions.
Zodiac Aerospace SA dropped 16 percent on Wednesday after the company said operating profit will drop 10 percent this year, calling into question a planned 9.6 billion-euro ($10.2 billion) acquisition by Safran SA.
The U.K.'s FTSE 100 Index rose 0.2 percent, following a steady day yesterday as Prime Minister Theresa May was given the go-ahead to trigger the Brexit process.
— With assistance by Blaise Robinson, and Elena Popina
Before it's here, it's on the Bloomberg Terminal.
LEARN MORE