Decision-Day Guide: BOJ Meets With Focus on Fed Hike, Road Ahead
By
All 41 economists surveyed say they expect BOJ to stand pat

Market speculation turns to possible rate increase, tapering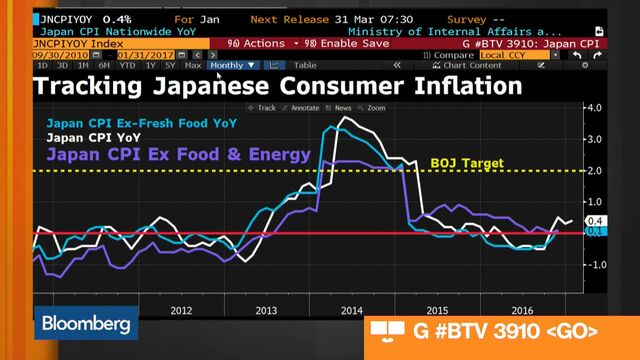 Judging the Bank of Japan to be on cruise control for now, investors will turn their focus to the road ahead for monetary policy as the BOJ ends a two-day board meeting on Thursday.
The gathering in Tokyo finishes just hours after the Federal Reserve's own meeting, at which the Fed raised its policy rate and signaled that two more hikes are possible this year. Expectations of policy divergence have already provided a tailwind for Japan's central bank, helping weaken the yen and bolstering inflationary pressures.
 
None of the 41 economists surveyed by Bloomberg expect the BOJ to adjust policy Thursday, and all but three said they think it's done adding to stimulus during Governor Haruhiko Kuroda's term, which ends in April 2018.
"The BOJ can enjoy smooth sailing for now," said Mari Iwashita, chief market economist at SMBC Friend Securities.
But the policy divergence will make it more challenging for the BOJ to maintain its target for 10-year government bond yields, and some investors are already speculating that it will have little choice but to raise that target as global yields rise and inflation inches up at home. Kuroda's comments on this and possible tapering of asset purchases will be scrutinized.
The BOJ typically delivers its policy statement between noon and 1 p.m., followed by Kuroda's news conference at 3:30 p.m.
Looking Up
The pressure to do more to stoke growth and inflation is largely off the BOJ for now. The policy divergence has held down the yen and while Japan's economy is still weak, it is growing and set for a fifth consecutive expansion in the first three months of 2017. That would be its longest streak of quarterly growth in a decade.
The central bank's preferred measure of inflation hit positive territory in January for the first time in a year. Though still well below the target of 2 percent, inflation is forecast to continue rising in the year ahead, thanks largely to the weaker currency and higher energy costs. The job market is tight, with unemployment at a two-decade low.
A strengthening global economy is supporting Japan's exports, while a fiscal spending package is expected to lift domestic demand this year. Kuroda has said any U.S. rate increases would underscore improvement in the world's largest economy, which is good for Japan.
In its latest outlook report, released in January, the BOJ said risks were skewed to the downside. But having shifted to a framework aimed at policy sustainability in September, it is now positioned to wait and see how current trends play out, economists say.
Policy Speculation
The improved outlook and rising global yields have supported speculation that the BOJ will at some point raise its target for the 10-year bond yield, its long-term policy rate, from around zero percent. Eleven of 41 economists said they expected the BOJ to do so this year.
Doubts about the central bank's ability to contain the 10-year yield contributed to market volatility earlier this year. That volatility subsided after the BOJ began efforts last month to more clearly state its bond-buying intentions in advance.
Still, some BOJ officials are concerned about market speculation and will consider giving more forward guidance on rates in the future once inflation picks up, people familiar with discussions inside the bank told Bloomberg last week.
BOJ officials would rather be late than early in raising the yield target, even if consumer price gains reach 1 percent later this year, according to people familiar with the central bank's discussions.
Analysts will also pay close attention Thursday to any sign of a change in the BOJ's plan for bond purchases. Twenty-five of 40 economists said the bank will either cut its annual target for bond purchases or stop restating the target altogether by the end of Kuroda's term.