Dakota Oil Pipeline Opponents Fail Again to Halt Project
By
Cheyenne River Sioux say conduit desecrates sacred waters

Tribe appealing judge's ruling last week rejecting that claim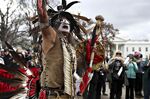 Energy Transfer Partners LP cleared another legal hurdle with oil soon to flow through the Dakota Access pipeline.
On Tuesday, a federal judge in Washington rejected a Native American tribe's request to put the project on pause while it asks an appeals court to block it. Last week, U.S. District Judge James Boasberg said the tribe waited too long to argue that the conduit threatened to make lake water impure and unsuitable for their religious practices.
Attorneys for the ETP-led Dakota Access LLC consortium building the pipeline told the court Monday that oil could be introduced as soon as March 20. The 1,172-mile pipe will carry crude from shale oil-rich northwestern North Dakota to a terminal in Patoka, Illinois.
The $3.8 billion project has become a symbol of President Donald Trump's bullishness on fossil fuels -- a stark reversal of positions taken by President Barack Obama -- and the focus of protests by tribes and environmentalists objecting to the pipeline and its path.
Another Sioux band, the Standing Rock, started the fight in July with a challenge to its route across land they said is historic. The Obama administration temporarily halted the project, but the Trump administration has let it move forward.
The case is Standing Rock Sioux Tribe v. U.S. Army Corps of Engineers, 15-cv-1534, U.S. District Court, District of Columbia (Washington).