Corbyn Misses Open Goal as May Backs Down Over Self-Employed Tax
By
U.K. opposition leader fails to land effective blow on premier

Labour lawmakers openly criticize party boss on social media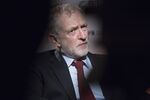 It should have been an easy victory for Jeremy Corbyn.
The leader of the U.K.'s opposition took his seat in the House of Commons on Wednesday just minutes after a humiliating government U-turn, giving him a perfect opportunity to make Prime Minister Theresa May squirm at her weekly question-and-answer session.
Chancellor of the Exchequer Philip Hammond had said a tax hike on the self-employed that Labour, Tory lawmakers and Rupert Murdoch's Sun newspaper had joined forces to oppose, would now be abandoned. A cornerstone of Hammond's March 8 budget, the measure lasted less than a week.
Yet after Corbyn asked May his allotted six questions he sat down, not to enthusiastic cheering from his Labour colleagues, but rapturous braying from May's Conservatives, who had seen their leader get the better of him yet again.
"We're delivering, he's just sitting there and going on protest marches," May shouted across the chamber at the end of the session.
Collective jaws dropped at Corbyn's failure to roast May with many turning to Twitter. Labour lawmaker Tom Blenkinsop retweeted a movie of a robot soccer player missing an open goal. "Serious questions about holding the government to account need to be asked," he said.
What Went Wrong?
In a fevered atmosphere, Corbyn's first stab at May didn't include a question. May's administration "seems to me like a government in a bit of chaos here," he said before observing that big business avoids "an awful lot" of tax by gaming self-employment rules.
May swatted him away with an attack that delighted her backbenchers and left Labour members of Parliament grim faced.
"When it comes to lectures on chaos, he's the first person I'd turn to," she said. He then asked for an apology and inquired how Hammond would fill the newly opened "black hole" in his budget, enabling May to attack with a familiar claim -- popular with her lawmakers -- that Labour's spending plans would bankrupt the country.
By the time Corbyn had reached his fourth and -- as it would turn out -- final attempt to capitalize on the about-face, he again failed to ask a question. That gave May an opening to land a punch.
"I don't think the right honorable gentleman has quite got the hang of this; he's supposed to ask me a question," May said. The laughter around the chamber was proof enough that she had come out of the exchange unscathed.
'Car Crash'
Corbyn then used his last two questions to ask about schools and equality. May turned her attention to attacking Scottish nationalists.
"Unless the Corbyn team actually planned for that to be a car crash the inquest should be long, hard and honest," former Prime Minister Tony Blair's spin doctor, Alastair Campbell, wrote on Twitter. "He just can't do it."
Andrew Russell, who teaches politics at Manchester University, said "Labour's failure to hit hard on this and the general polling standing buys the government significant room for error." In short, Corbyn handed May a get-out-jail-free card.
That left some in Labour wondering what could have been if Yvette Cooper hadn't lost to Corbyn in the 2015 leadership election. For many, she gave Corbyn a master class on how to challenge May in an animated performance in which she waved and pointed at circled passages of the budget documents.
Former minister Ben Bradshaw said Cooper's question "shows how it's done."  Ilford MP Mike Gapes took to Twitter to say "It's a pity" Cooper isn't leader.
Before it's here, it's on the Bloomberg Terminal.
LEARN MORE