Candidate to Lead African Soccer Said Under Ethics Investigation
By
Madagascar's Ahmad seeking to end Hayatou's 29-year tenure

Published emails show Ahmad asked banned FIFA VP for cash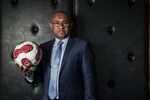 The challenger to the longtime head of African soccer is under preliminary investigation by FIFA's independent ethics committee, according to a person familiar with the information.
African soccer officials will vote in tomorrow's election, which pits Madagascar's Ahmad Ahmad against 29-year incumbent Issa Hayatou, who also serves as FIFA's senior vice president.
Ahmad was approved to run by a FIFA committee that vets candidates, but the ethics probe is separate from that process, said the person, who asked to remain anonymous because the investigation isn't public. Investigators are looking into allegations that Ahmad sought and received money from onetime Asian soccer head Mohamed bin Hammam, who was banned from global soccer in 2012, according to the person.
Ahmad and the Madagascar federation didn't respond to an email and phone call seeking comment.
The ethics committee said in an emailed statement that it doesn't comment on preliminary investigations. Under its procedures, FIFA's ethics investigators don't reveal targets of their initial probes unless they have evidence of wrongdoing. FIFA's internal integrity checks on candidates only covers formal investigations and past verdicts, the ethics committee added. FIFA, the governing body for world soccer, declined to comment.

Email Trove
The investigation into Ahmad is based on the content of emails published by the Sunday Times in which Ahmad had discussed financial assistance offered by Bin Hammam for soccer elections in Madagascar, according to the person familiar with the probe. The emails show Ahmad asked for an undisclosed amount of money via a bank transfer or at a meeting in Paris with an aide to the Qatari billionaire.
The election threatens to be a major embarrassment for FIFA's new president. After longtime leader Sepp Blatter was banned following an international corruption scandal, Gianni Infantino was elected to lead the rehabilitation of the soccer body ahead of next year's World Cup. Infantino hasn't said which candidate he favors. He recently attended a party thrown by Ahmad's campaign manager, Zimbabwean soccer leader Phillip Chiyangwa.
FIFA's leadership is still of interest to the U.S. Justice Department, which is due to receive details of the organization's internal investigation begun in 2015. At stake is FIFA's "victim status," a legal position that grants it permission to receive restitution from cash seized by U.S. authorities and allows American companies to continue participating in FIFA's $5 billion World Cup.
Hayatou, the incumbent, has also been the subject of past investigations. He received a reprimand from the International Olympic Committee in 2011 after being named as a recipient of kickbacks paid by FIFA's former marketing partner. He was also alleged to have sought payments in return for his vote in the controversial bidding for the 2018 and 2022 World Cups. Hayatou has denied those allegations.