business
Brexit Bulletin: May Pushed Into June?
After months of delay by the U.K., European officials could now force May to wait until summer to start Brexit talks.
By
Brexit Bulletin: May Pushed Into June?
After months of delay by the U.K., European officials could now force May to wait until summer to start Brexit talks.
By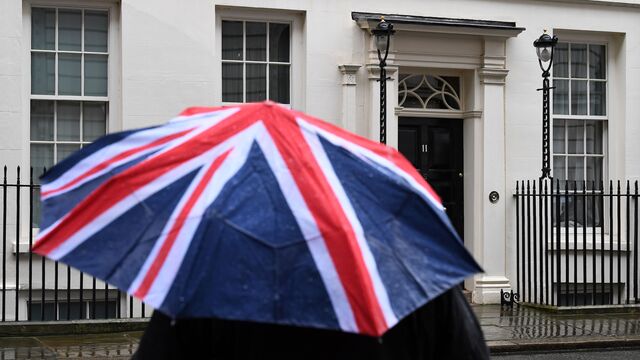 Sign up to receive the Brexit Bulletin in your inbox, and follow @Brexit on Twitter.
This time last year, then-Prime Minister David Cameron was pledging to trigger Britain's withdrawal from the European Union "straight away" if voters backed it in the referendum.
Yet almost nine months since they did, his successor, Theresa May, has still to formally declare the breakup after arguing she needed time to form her negotiating stance and then being forced to seek the permission of Parliament.
Even on Tuesday, after lawmakers empowered her to invoke Article 50, the required legislation still had to be signed by the Queen, and officials say May will continue to hold off until the last week of the month.  



But soon the shoe will be on the other foot. While May hopes for speedy engagement from the EU to get a deal done in two years, she'll be the one having to be patient.
EU officials tell Bloomberg's Ian Wishart that they may not open formal negotiations until a June 20 summit in Luxembourg, limiting the amount of time May has to secure a deal before being pushed out of the bloc in the spring of 2019. Though EU officials may not ultimately wait until June, any delay also risks upsetting businesses and banks that want clarity on what Brexit means for them.
Of course, the U.K. has the most to lose from failing to strike a good deal, so control of the clock clearly gives the rest of the EU useful leverage. "Time pressure is a very big issue," said Pieter Cleppe, who runs the Brussels Office for Open Europe.
May told Parliament on Tuesday that winning the ability to start Brexit was a "defining moment," but she also seemed perturbed over the terminology surrounding the topic:
"I prefer not to use the term of divorce from the European Union because very often when people get divorced they don't have a very good relationship afterwards. Honourable members need to stop looking at this as simply coming out of the European Union and see the opportunity for building a new relationship with the European Union and that's what we will be doing."
Scotland's "Many Friends"
On Tuesday, May rejected Scotland's case for holding another independence referendum as she warned First Minister Nicola Sturgeon it was "not a moment to play politics or create uncertainty and division."

But what would Scotland's future in the EU be if it did split from England? The bloc says it can't retain the U.K.'s membership and would have to apply as a new state, meaning Spain could veto it because of concern its region of Catalonia would want to follow the same path.
According to former Scottish leader Alex Salmond, it could however retain access to the region's single market by joining the European Free Trade Association, a parallel trade association that includes Norway and Iceland. It's not clear if current members would welcome an expansion.
"Scotland has many, many friends in Europe," Salmond told Bloomberg Television in an interview. "More than the U.K. at the moment. Negotiations about Scotland would be a good deal easier than negotiations in London and Brexit."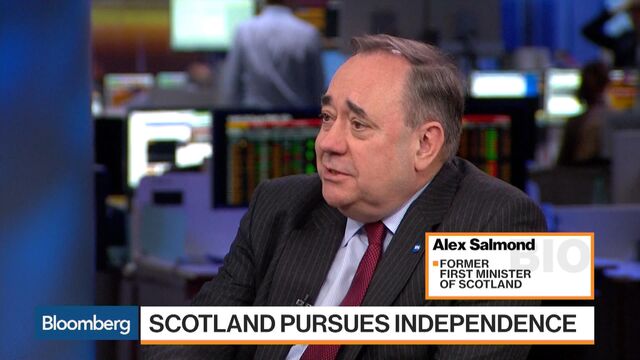 Some 57 percent of Scottish voters back staying inside the U.K. and 43 percent want independence, a YouGov survey for The Times showed.
Dutch Drama 
The Netherlands on Tuesday holds the first of three major elections in the EU this year.
Serving as a bellwether for votes in France and Germany, the Dutch ballot pits Liberal Party Prime Minister Mark Rutte against Geert Wilders's Freedom Party. 
As with the Brexit referendum, the election takes place against a backdrop of rising populism, nationalism and anti-EU sentiment.
"Remember the Brexit. We all thought that would never happen. Remember the U.S. elections," Rutte said on Monday. "So let's not make that mistake again. These elections are crucial. Let's stop the domino effect right this week, this Wednesday. The domino effect of the wrong sort of populism winning in this world."
The Liberals are set to take about 27 seats in the 150-member lower house, compared with 20 to 21 seats projected for Wilders's Freedom Party,  according to the latest Peilingwijzer poll aggregator. 
May shouldn't think elections elsewhere in the EU could shape the Brexit deal unless Marine Le Pen wins in France, said Mujtaba Rahman of the Eurasia Group:
"The EU has already articulated its most important principles — on the indivisibility of the EU's four freedoms and the fact membership must be more beneficial than any other form of relationship. It is very unlikely the elections or their outcomes will change these guiding principles."
Banking Bitterness

It's getting bad-tempered in the race to lure banks from London.
Ireland has complained to the European Commission that other countries around the continent are offering looser regulations to attract companies.
Still, Bloomberg reported on Tuesday that Bank of America views Dublin as its default destination for a new hub inside the EU, according to one of the firm's top executives in Germany. 
Amsterdam is also proving attractive to Japanese banks, with Mitsubishi UFJ and Mizuho bolstering units in the Dutch city.
Brexit Bullets
And Finally…
Few foreigners come to London for the weather, but many EU citizens now say working in the U.K. capital is as appealing as its overcast skies after Parliament balked at guaranteeing their rights after Brexit. "That's what they say in London — that it's multicultural. If this goes away, then what's the appeal of London? The weather?" said Societe Generale trader Julian Ormenisan, a 30-year old Romanian. "If the whole society moves in a way where foreigners are not welcome anymore, you don't feel as welcome."
Such worries are why London Mayor Sadiq Khan on Tuesday called for May to provide "cast iron" protection for EU nationals when she files Article 50.
For more on Brexit follow Bloomberg on Twitter, Facebook and Instagram, and see our full coverage at Bloomberg.com