Brazil Shrugs Off Latest Corruption Claims
By and
Policy makers insist no delays to pension vote timetable

List of politicians named in graft probe leaked to local media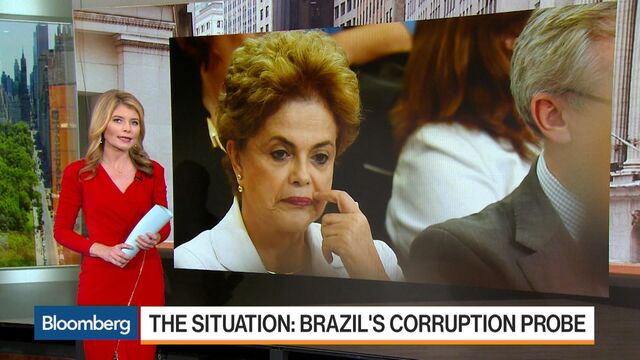 A day after fresh corruption allegations implicated senior politicians from President Michel Temer's inner circle, Brazil's top policy makers insisted it's business as usual.
In their first public comments since the revelations, House Speaker Rodrigo Maia said the timing for a key pension overhaul won't change, while Finance Minister Henrique Meirelles said he saw no signs of the Carwash investigation delaying reforms. President Michel Temer omitted the latest accusations entirely from his speech on Wednesday, emphasizing instead that the government will implement its plans to boost the economy.
Brazilian media reported on Tuesday evening that at least five cabinet ministers, the head of both houses of Congress, four leading senators and two former presidents were on a list of names that the country's chief prosecutor wishes to investigate. The probe, based largely on plea bargain testimony from executives at construction firm Odebrecht SA, has had politicians on edge for months. Still, analyst and investor reaction was muted as the names mentioned proved to be no surprise and politicians pledged to continue working.
"It's not a tsunami or the end of the world" said Ricardo Ribeiro, a political analyst from MCM Consultores. "It shouldn't paralyze Congress or the government."
As one of the officials named in the latest reports, Maia denied wrongdoing and said he welcomed the chance to "clarify everything." He added it was important for Congress to keep working while Brazil's public prosecutors continue with their investigation.
Investors such as Goldman Sachs agreed. In a Wednesday report signed by chief Latin America economist Alberto Ramos, the investment bank wrote that the Temer administration is likely to secure approval for pension reform by the second half of the year despite political turbulence.
In a note issued on Tuesday evening, Eurasia Group argued that the main impact of the latest revelations would be felt in the elections of 2018, as the wide range of politicians implicated in the scandal would fuel demand for anti-establishment candidates.
The government also received a boost from the news late Wednesday that Moody's Investors Service had upgraded Brazil's rating outlook to stable. Temer expressed his "satisfaction" with the ratings agency's recognition of his administration's efforts to regain economic credibility. Despite the improvement in Moody's assessment of Brazil's outlook, it kept the country two levels below investment grade.
Clouds Gathering
Nevertheless there are signs of trouble ahead. Public transport workers and teachers staged partial strikes in Brazil's largest cities in protest at the reform proposal on Wednesday. In Brasilia, protesters occupied the finance ministry, while in Sao Paulo tens of thousands of demonstrators succeeded in blocking the city's main avenue on Wednesday evening. There were also minor clashes between protesters and police in the center of Rio de Janeiro.
Rafael Cortez, a political analyst from Tendencias Consultoria, told Bloomberg in a telephone interview that the unstable political environment increased the chances of a delay to pension reform.
Before it's here, it's on the Bloomberg Terminal.
LEARN MORE