As You Wait for Aramco, Here Are Other Middle East IPO Hot Spots
By
Egypt, Saudi Arabia and Kuwait may be active markets this year

Number of IPOs this year should be higher than 2016: Arqaam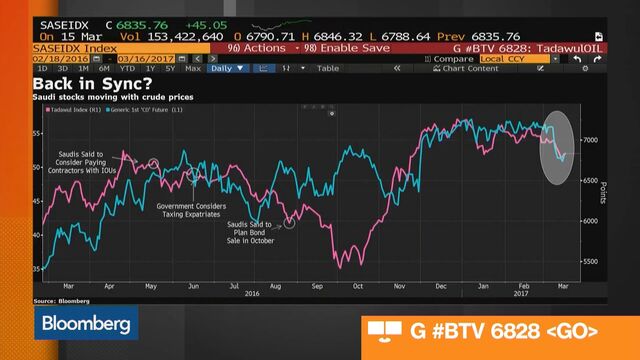 Saudi Arabian Oil Co.'s plans for a giant initial public offering are top of mind for Middle East investors -- but they may have to wait at least until late 2018 to snap up the shares. While they prepare for Aramco, regional money managers are taking stock of what else might come to market this year.
After a slow 2016, when IPOs in the Middle East and Africa fell 64 percent to $1.7 billion, according to data compiled by Bloomberg, activity in the region should pick up this year, said Jaap Meijer, head of equity research of Arqaam Capital Ltd. in Dubai.
"The IPO pipeline in Saudi Arabia, in particular, looks strong with some interesting names listing on the Nomu exchange," which focuses on small and mid-size enterprises, Meijer said. "In Egypt, the government is looking to embark on a large privatization process, starting with the banking sector, with Banque du Caire and the Arab African International Bank said to be the first candidates."

Here are some Middle East markets to watch for IPOs in 2017.
Egypt

This could be the year with the highest number of IPOs since 1998 in Egypt, and companies should raise a record amount through equity sales, according to Egyptian Exchange Chairman Mohamed Omran.
About 10 companies should price new sales this year, Omran said during an event in Dubai this week. The economy is expected to stabilize, partly because the government allowed the pound to float last year, a move that has increased the attractiveness of local stocks for foreign investors, he said.
Egypt's stocks benchmark has advanced 3.3 percent this year, while those of Saudi Arabia, Abu Dhabi, Dubai, Oman and Qatar have retreated.

Saudi Arabia

Aramco's share sale is likely to happen in the second half of 2018, or even be slightly delayed, and is likely to achieve less than the $2 trillion valuation estimated by the government, Fitch Group's BMI Research said in a note this week.
For more on Aramco's IPO plans, click here
In the meantime, authorities are speeding reforms to make the country's market more attractive to foreign investors, which currently account for only about 4 percent of holdings in local stocks. Initiatives include the start this year of the Nomu parallel market.

Saudi Arabian regulators have been contacted by more than one company from other Gulf Cooperation Council countries seeking a cross listing in Riyadh by the end of this year, said Yarub Awadh Albadi, head of initial public offerings at the kingdom's Capital Market Authority. He estimates "a handful of IPOs" on the Saudi bourse's main board.
The billionaire Olayan family, Credit Suisse Group AG's largest shareholder, is considering selling shares in some local assets, a spokesman for the family's holding company said this week. Olayan Financing manages more than 40 companies in the Middle East, including the regional Burger King franchise, according to its website.
Kuwait

Kuwait plans to list a power and water company this year, as part of plans to overhaul its economy following the slump in oil prices. The volume of trading in the local stock market surged this year, pushing the main index to the highest level since 2014, helped by a series of events that encouraged equity investors.
These steps include reforms in trading systems and rules, an ambitious spending plan by the government and the successful sale this week of $8 billion in dollar bonds at a lower cost than neighboring countries. The 15-day average volume of trading in shares included in Kuwait's benchmark stock index was close to 305 million as of Tuesday, a 66 percent increase compared with the end of last year.

"There are a few companies to be listed soon," said Samar Santini, manager for the equities institutional trading desk at Global Investment House in Kuwait City. "We expect IPOs coming from industries such as consumer services, banks and telecommunications."
— With assistance by Matthew Martin
Before it's here, it's on the Bloomberg Terminal.
LEARN MORE