Your Evening Briefing
Here are today's top stories
Bloomberg News
Want to receive this post in your inbox every afternoon? Sign up here.
Good afternoon. The weather outside may be frightful in the northeastern U.S.–more than 6,000 flights canceled and over 180,000 without power from Virginia northward–but spring is less than a week away. We'll be counting the days. –Emily Banks
Trump Force One is ready for takeoff. After decades in the sky, the president's fleet is finally getting an upgrade—unless the new passenger-in-chief adds turbulence. The two 747-200s that serve as Air Force One (the call sign applies to any airplane carrying the commander-in-chief) will reach the end of their intended 30-year life spans this year, having first taken to the air in 1987, with interiors designed by First Lady Nancy Reagan. Trump denigrated the presidential jet on the campaign trail, calling it "a step down … in every way" from his own plane, a gilded Boeing 757. Trump's criticisms were a bit off, though.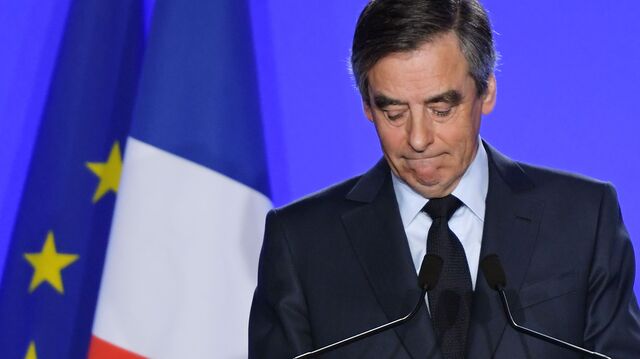 French presidential candidate Francois Fillon has been charged with misuse of public funds, although he has repeatedly said he won't step down and will battle the claims. Now a distant third in polls, Fillon started the year as favorite to be France's next president, until a newspaper reported he had employed his wife for years as a parliamentary assistant and that she had done little real work for total pay of about 1 million euros ($1.06 million).
Investors are betting against Trump's trade war. The unpredictable novice in the White House is making emerging markets seem less dangerous by comparison, say strategists like Goldman Sachs's Kamakshya Trivedi. With economies in the strongest position they've been in years to withstand higher U.S. interest rates, investors are counting on developing countries to keep offering big returns, and they're skeptical Trump will deliver enough of his protectionist agenda to stand in their way.
Brexit is on. Britain's Parliament passed a bill late Monday allowing Prime Minister Theresa May to trigger Article 50, which will lead to two years of exit talks with the European Union. The prime minister now faces the twin challenges of pulling Britain out of the EU on good terms while navigating Scotland's renewed bid for independence.
Your tax dollars subsidize Amazon. Are the jobs worth it? When the company opened a warehouse in the Minneapolis suburb of Shakopee last year, a thousand people got new jobs. In return, Amazon got millions of dollars in tax breaks. Bloomberg Technology's Decrypted podcast visited Shakopee to examine the impact the e-commerce giant has had on the area's residents and businesses.
Saudi Arabia says it has reversed a third of its production cuts, raising output back above 10 million barrels a day in February. The kingdom, which had curbed supplies more than it needed in January to lead the way in an accord to re-balance world markets, boosted production by 263,300 barrels a day, according to a monthly report from OPEC. That figure, submitted by Riyadh, jarred with OPEC's estimates, which showed Saudi production falling further last month to 9.8 million barrels a day.
Here's a first look at the Woolworth Tower's new apartments. When an investment group headed by developer Alchemy Properties bought the top 30 floors of New York City's Woolworth Tower in 2012 for a reported $68 million, the space, which had formerly been offices, was an empty shell. The group began construction in 2014, renovating those floors from the inside out. That work is due to be finished at the end of 2017, as workers convert the interior into 33 luxury condominiums.

Before it's here, it's on the Bloomberg Terminal.
LEARN MORE